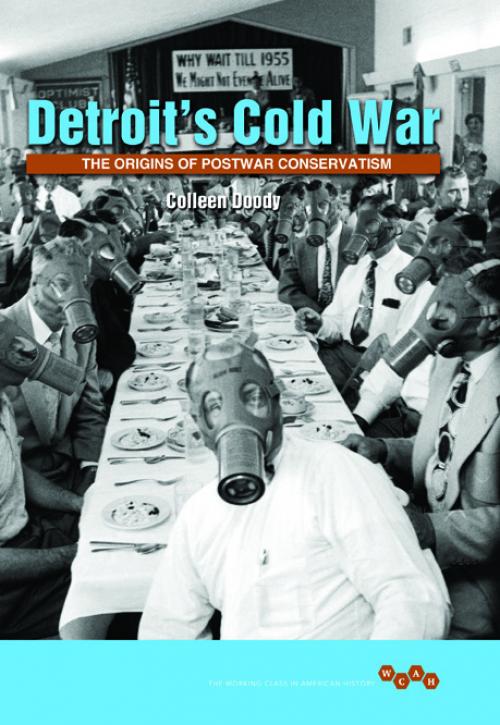 Detroit's Cold War
The Origins of Postwar Conservatism
An essential contribution to the history of anticommunism and postwar conservatism
Paper – $25
978-0-252-08310-5
eBook – $19.95
978-0-252-09444-6
Publication Date
Paperback: 09/26/2017
About the Book
Detroit's Cold War: The Origins of Postwar Conservatism
locates the roots of American conservatism in a city that was a nexus of labor and industry in postwar America. Drawing on meticulous archival research focusing on Detroit, Colleen Doody shows how conflict over business values and opposition to labor, anticommunism, racial animosity, and religion led to the development of a conservative ethos in the aftermath of World War II.
Using Detroit--with its large population of African American and Catholic workers, strong union presence, and starkly segregated urban landscape--as a case study, Doody articulates a nuanced understanding of anticommunism during the Red Scare. Looking beyond national politics, she focuses on key debates occurring at the local level among a wide variety of common citizens. In examining this city's social and political fabric, Doody illustrates that domestic anticommunism was a cohesive, multifaceted ideology that arose less from Soviet ideological incursion than from tensions within the American public.
By focusing on labor, race, religion, and the business community in one important American city, Detroit's Cold War shows American anticommunism to be not a radical departure from the past but an expression of ongoing antimodernist and antistatist tensions with American politics and society.
About the Author
Colleen Doody is an assistant professor of history at DePaul University.
Reviews
"
Detroit's Cold War
is a concise, clearly written, and sensibly organized book. It highlights important trends in the United States that have yet to run their course."--
The Michigan Historical Review
"Urban historians and historians of conservatism will. . . value the detailed research on the varied dimensions of anticommunist politics in the heart of a New Deal protégé."--
The Journal of American History
"An important and well-timed book. Doody's rich historical analysis helps to situate the contemporary mistrust and criticism toward unions, collective action, and the welfare state throughout the USA."--
Labor Studies Journal
"Colleen Doody's insightful study of Cold War Detroit introduces readers to a profoundly conservative political history that maps onto and intersects with the history of labor radicalism in the Motor City."--
American Historical Review
"Colleen Doody agrees with those scholars who see a contested New Deal liberalism and a powerful conservation before the latter's flowering in the 1970s. Her most important contribution is to show how 'the ideas that became central to this [conservative] movement developed at a grassroots level much earlier.'"--
Labour/Le Travail
"[A] well-written, and solidly researched book.
Detroil's Cold War
is highly recommended. It will be useful in undergraduate courses, and is an important contribution to the emerging scholarship on the rise of conservatism in twentieth century America."--
American Catholic Studies
---
Blurbs
"This study makes a significant scholarly contribution in providing a rich picture of anticommunism in one of the country's most important metropolises. Colleen Doody makes the important argument that deep-seated social and political conflicts--which were not always linked to the actual communist movement--produced the extraordinary wave of anticommunism that gripped the country during the decade after World War II."--Joshua B. Freeman, author of Working-Class New York: Life and Labor Since World War II

"A compelling argument about the racial, libertarian, and religious dimensions of anticommunism. Doody makes an important intervention in the discussion of the Cold War and domestic anticommunism, civil rights, the decline of the New Deal coalition, the rise of the New Right, shifting postwar ethnic and religious identities, and the postwar fate of labor and business."--David Colman, author of Race against Liberalism: Black Workers and the UAW in Detroit
---