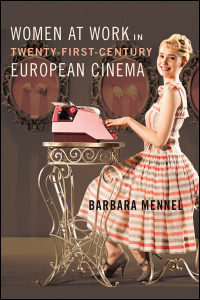 Women at Work in Twenty-First-Century European Cinema
Europe's working women in film fantasy and sobering reality
Cloth – $110
978-0-252-04222-5
Paper – $27.95
978-0-252-08395-2
eBook – $14.95
978-0-252-05096-1
Publication Date
Paperback: 02/11/2019
Cloth: 02/11/2019
About the Book
From hairdressers and caregivers to reproductive workers and power-suited executives, images of women's labor have powered a fascinating new movement within twenty-first-century European cinema. Social realist dramas capture precarious working conditions. Comedies exaggerate the habits of the global managerial class. Stories from countries battered by the global financial crisis emphasize the patriarchal family, debt, and unemployment.
Barbara Mennel delves into the ways these films about female labor capture the tension between feminist advances and their appropriation by capitalism in a time of ongoing transformation. Looking at independent and genre films from a cross-section of European nations, Mennel sees a focus on economics and work adapted to the continent's varied kinds of capitalism and influenced by concepts in second-wave feminism. More than ever, narratives of work put female characters front and center--and female directors behind the camera. Yet her analysis shows that each film remains a complex mix of progressive and retrogressive dynamics as it addresses the changing nature of work in Europe.
About the Author
Barbara Mennel is an associate professor of film studies in the Departments of English and of Languages, Literatures, and Cultures at the University of Florida. Her books include The Representation of Masochism and Queer Desire in Film and Literature and Queer Cinema: Schoolgirls, Vampires, and Gay Cowboys.
Reviews
"Highly recommended." --
Choice
"A beautiful balance between plot analysis and aesthetic evaluation to show how cinematic forms and subjects work together to root women's labor in gendered and economic contexts." --
MAI: Feminism & Visual Culture
"
Women at Work
offers us a rich archive of cinematic depictions of female labor . . . It is to the credit of Mennel's sweeping cinematic analysis of the present that we now have a better understanding of not only the work women do across the continent but also the variety of
new
images European cinema has been offering us." --
German Studies Review
"By zooming out to include multiple countries and contexts and by zooming in on individual films about women workers, Mennel makes a strong case that European cinema has something important to say about gender and the economy." --
Feminist German Studies
"By zooming out to include multiple countries and contexts and by zooming in on individual films about women workers, Mennel makes a strong case that European cinema has something important to say about gender and the economy." --
Feminist German Studies
---
Blurbs
"This book makes an important intervention into both feminist film theory and scholarship on European cinema. Mennel provides a kaleidoscopic overview of the landscape of European filmmaking today, and a key achievement of her study is its truly transnational, comparative framework, which generatively juxtaposes films from a wide range of European countries without losing sight of their cultural specificity."--Hester Baer, author of Dismantling the Dream Factory: Gender, German Cinema, and the Postwar Quest for a New Film Language

"A book steeped in cinematic analysis of style and form that is relevant far beyond the field of cinema and European studies. Innovative and unique in the way it brings a very timely topical focus to a large body of contemporary European cinema."--Maria Stehle, author of Ghetto Voices in Contemporary Germany: Textscapes, Filmscapes, and Soundscapes
---