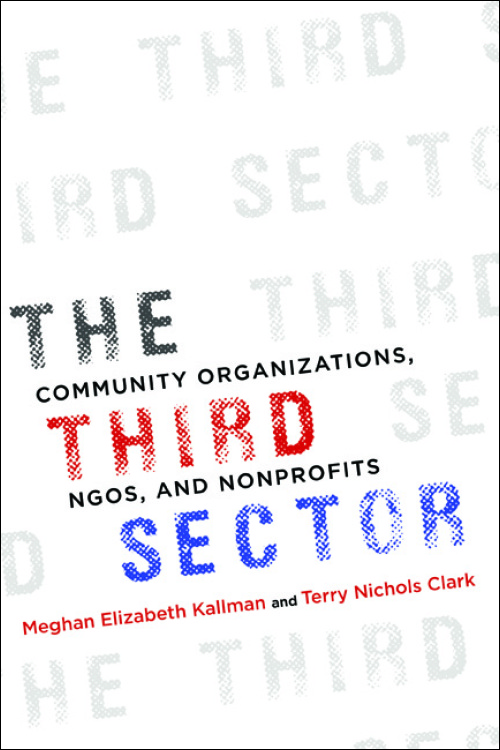 The Third Sector
Community Organizations, NGOs, and Nonprofits
With assistance from Cary Wu and Jean Yen-chun Lin
The increasingly powerful constellation of groups at the crux of global affairs
Cloth – $110
978-0-252-04043-6
Paper – $25
978-0-252-08429-4
eBook – $19.95
978-0-252-09885-7
Publication Date
Paperback: 02/25/2019
Cloth: 11/07/2016
About the Book
Civil society organizations, nonprofits, national and international nongovernmental organizations, and a variety of formal and informal associations have coalesced into a world political force. Though the components of this so-called third sector vary by country, their cumulative effects play an ever-greater role in global affairs.
Looking at relief and welfare organizations, innovation organizations, social networks, and many other kinds of groups, Meghan Elizabeth Kallman and Terry Nichols Clark explore the functions, impacts, and composition of the nonprofit sector in six key countries. Chinese organizations, for example, follow the predominantly Asian model of government funding that links their mission to national political goals. Western groups, by contrast, often explicitly challenge government objectives, and even gain relevance and cache by doing so. In addition, Kallman and Clark examine groups in real-world contexts, providing a wealth of political-historical background, in-depth consideration of interactions with state institutions, region-by-region comparisons, and suggestions for how groups can borrow policy options across systems.
Insightful and forward seeing, The Third Sector provides a rare international view of organizations and agendas driving change in today's international affairs.
About the Author
Meghan Elizabeth Kallman is an assistant professor in the School for Global Inclusion and Social Development at the University of Massachusetts Boston. Terry Nichols Clark is a professor of sociology at the University of Chicago and the coauthor of The Breakdown of Class Politics: A Debate on Post-Industrial Stratification.
Reviews
"A worthy addition to the bookshelves of scholars, practitioners and policy makers alike--highly recommended reading."--Voluntas

"The most promising contribution of this volume lies in this set of analyses, especially the chapter on the emergence of civil society in China. By bringing attention to the growing third sectors across Asia, the book has the potential to reinvigorate the sociological study of comparative civil society development as well as nonprofit and nongovernmental organizations more broadly."--American Journal of Sociology

"The Third Sector is a relevant and useful book for political scientists, sociologists, legal scholars, and anthropologists interested in the relationship between states and citizen, regardless of what country/region they study." --American Review of Public Administration

"The book is a useful addition to a growing body of research on the third sector that is expanding around the world." --Journal of Planning Education and Research
---