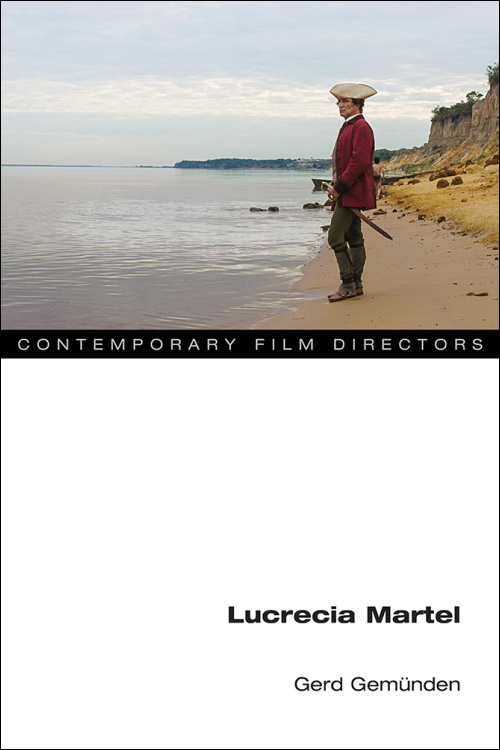 Lucrecia Martel
A poetics of the senses
Cloth – $110
978-0-252-04283-6
Paper – $22
978-0-252-08466-9
eBook – $14.95
978-0-252-05169-2
Publication Date
Paperback: 11/11/2019
Cloth: 11/11/2019
About the Book
Films like
Zama
and
The Headless Woman
have made Lucrecia Martel a fixture on festival marquees and critic's best lists. Though often allied with mainstream figures and genre frameworks, Martel works within art cinema, and since her 2001 debut
The Swamp
she has become one of international film's most acclaimed auteurs.
Gerd Gemünden offers a career-spanning analysis of a filmmaker dedicated to revealing the ephemeral, fortuitous, and endless variety of human experience. Martel's focus on sound, touch, taste, and smell challenge film's usual emphasis on what a viewer sees. By merging these and other experimental techniques with heightened realism, she invites audiences into film narratives at once unresolved, truncated, and elliptical. Gemünden aligns Martel's filmmaking methods with the work of other international directors who criticize—and pointedly circumvent—the high-velocity speeds of today's cinematic storytelling. He also explores how Martel's radical political critique forces viewers to rethink entitlement, race, class, and exploitation of indigenous peoples within Argentine society and beyond.
About the Author
Gerd Gemünden is professor of German studies, film and media studies, and comparative literature at Dartmouth College. His books include Continental Strangers: German Exile Filmmakers in Hollywood, 1933–1950 and A Foreign Affair: Billy Wilder's American Films.
Reviews
"Martel consistently defies trends and expectations. . . . Gemünden's book shows clearly by example that Martel's work needs the time and space to dwell and to breathe, and deserves the rewards that her practice garners." --
Film Quarterly
"Gerd Gemünden's
Lucrecia Martel
. . . offers the most comprehensive survey of her filmography to date. . . . Gemünden swiftly and effectively introduces the historical and cultural context that gave rise to the New Argentine Cinema of the 1990s." --
Cineaste
---
Blurbs
"Journalists discovered Lucrecia Martel with her last film, but scholars like Gerd Gemünden were already paying attention to her extraordinary body of work. Now, Gemünden analyzes the complexities of the Martel universe with a combination of cinematic precision and historical knowledge, unpacking her references and delineating her acute specificity of place. A welcome volume and likely an instant classic."--B. Ruby Rich, editor, Film Quarterly

"In a superb and richly documented in-depth reading of Lucrecia Martel's filmic oeuvre, Gerd Gemünden places her firmly within the context of Argentina's vibrant New Cinema of the last twenty years, while also making a convincing case for her to be considered a leading filmmaker of our time."--Jens Andermann, author of New Argentine Cinema
---