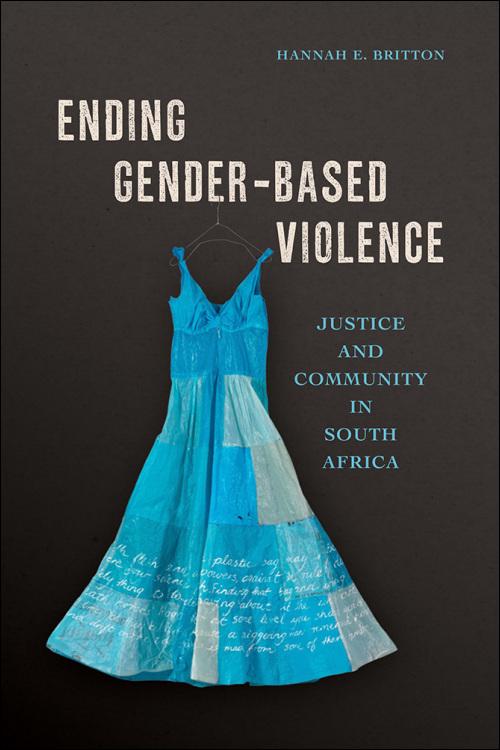 Ending Gender-Based Violence
Justice and Community in South Africa
Creating a feminist approach to a global problem
Cloth – $110
978-0-252-04309-3
Paper – $24.95
978-0-252-08496-6
eBook – $14.95
978-0-252-05197-5
Publication Date
Paperback: 04/27/2020
Cloth: 04/27/2020
About the Book
South African women's still-increasing presence in local, provincial, and national institutions has inspired sweeping legislation aimed at advancing women's rights and opportunity. Yet the country remains plagued by sexual assault, rape, and intimate partner violence.
Hannah E. Britton examines the reasons gendered violence persists in relationship to social inequalities even after women assume political power. Venturing into South African communities, Britton invites service providers, religious and traditional leaders, police officers, and medical professionals to address gender-based violence in their own words. Britton finds the recent turn toward carceral solutions—with a focus on arrests and prosecutions—fails to address the complexities of the problem and looks at how changing specific community dynamics can defuse interpersonal violence. She also examines how place and space affect the implementation of policy and suggests practical ways policymakers can support street level workers.
Clear-eyed and revealing, Ending Gender-Based Violence offers needed tools for breaking cycles of brutality and inequality around the world.
About the Author
Hannah E. Britton
is a professor of political science and women, gender, and sexuality studies at the University of Kansas. She is the author of
Women in the South African Parliament: From Resistance to Governance
and
coeditor of Women's Activism in South Africa: Working across Divides
.
---
Also by this author
Reviews
---
Blurbs
"Britton's sobering book offers an incisive, comprehensive view of what works and what doesn't work in South African efforts to stop gender-based violence. Not only does this book document practical ways to end gender-based violence, but it also advances transnational feminist research on the subject. This is a must-read for anyone who cares about eliminating gender-based violence."--Ashley Currier, author of Out in Africa: LGBT Organizing in Namibia and South Africa

"A very important book. The contribution lies in its thorough empirical research with communities, stakeholders, feminist activists, the places where violence takes place, and the police. This is the first research that is so encompassing, giving us a view of gender-based violence from the ground up."--Amanda Gouws, coeditor of Gender and Multiculturalism: North-South Perspectives
---