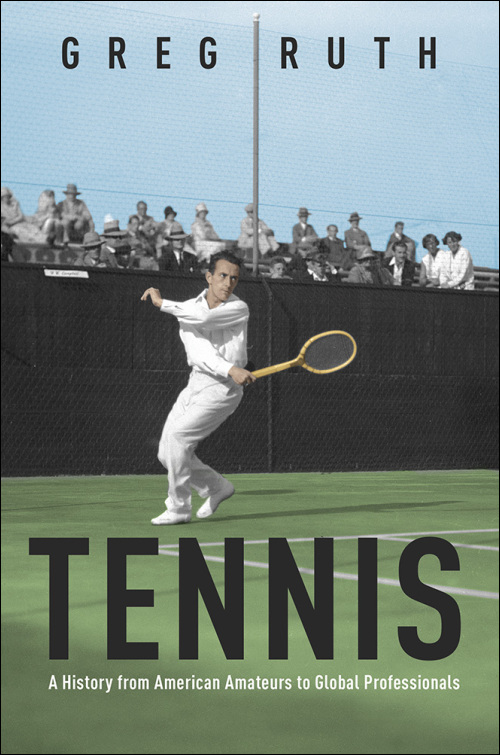 Tennis
A History from American Amateurs to Global Professionals
Analyzing how tennis turned pro
Cloth – $125
978-0-252-04389-5
Paper – $24.95
978-0-252-08588-8
eBook – $14.95
978-0-252-05279-8
Publication Date
Paperback: 07/27/2021
Cloth: 07/27/2021
About the Book
The arrival of the Open era in 1968 was a watershed in the history of tennis--the year that marked its advent as a professionalized sport. Merging wide-angle history with individual stories of players and off-the-court figures, Greg Ruth charts tennis's evolution into the game we watch today. His vivid account moves from the cloistered world of nineteenth-century lawn tennis through the longtime amateur-professional divide and the battles over commercialization that raged from the 1920s until 1968. From there, Ruth details the post-1968 expansion of the game as it was transformed by bankable superstars, a popular women's tour, rival governing bodies, and sponsorship money. What emerges is a fascinating history of the economics and politics that made tennis a decisive, if unlikely, force in the creation of modern-day sports entertainment.
Comprehensive and engaging, Tennis tells the interlocking stories of the figures and factors that birthed the professional game.
About the Author
Greg Ruth is an independent scholar.
Reviews
"
Tennis
will be the standard work on tennis in America for many years to come. It is a splendid example of sports scholarship and also an important and compelling exploration of what has generally been a little known or appreciated aspect of American History." --
Australasian Journal of American Studies
"This well-researched volume will be a valuable addition to any sports history collection." --
Choice
"Ruth's work is an excellent source for a history of sexism in tennis, while highlighting some of the biggest names on and off the court, who ushered tennis into a profitable sport in the postmodern era." --
Journal of American History
---
Blurbs
"This book is for tennis pros, serious amateurs, hackers, lovers of the game, and anyone interested in sport history. Greg Ruth shows us how tennis evolved from England's royal court to L.A.'s public courts to the U.S. Open's billionaire courts. Featuring big personalities and terrific storytelling, Tennis shows us how and why the game evolved over the years. This is excellent sport history."--Elliott J. Gorn, coauthor of A Brief History of American Sports, Second Edition

"Tennis finally has its long-awaited master narrative. Based on prodigious research, Greg Ruth's well-written, analytical history of the game stands alone. Neither followers of tennis history nor students of the role of sports in modern times can be without this superb book."--Benjamin G. Rader, author of Baseball: A History of America's Game, Fourth Edition
---