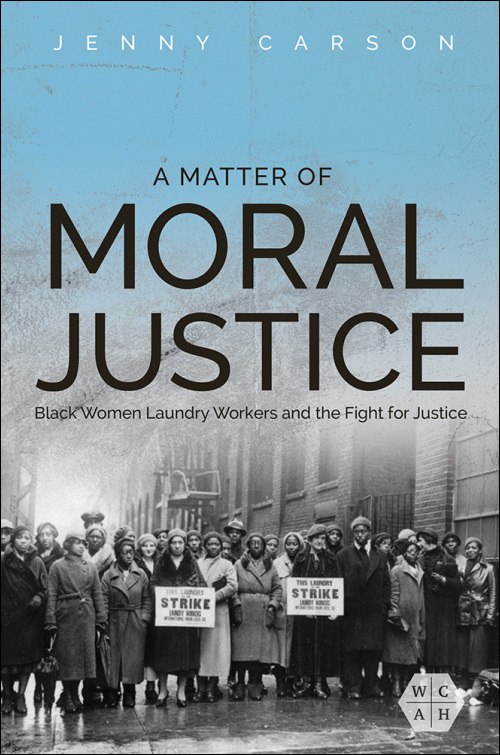 A Matter of Moral Justice
Black Women Laundry Workers and the Fight for Justice
A long-overlooked group of workers and their battle for rights and dignity
Cloth – $125
978-0-252-04390-1
Paper – $28
978-0-252-08589-5
eBook – $19.95
978-0-252-05280-4
Publication Date
Paperback: 07/13/2021
Cloth: 07/13/2021
About the Book
Like thousands of African American women, Charlotte Adelmond and Dollie Robinson worked in New York's power laundry industry in the 1930s. Jenny Carson tells the story of how substandard working conditions, racial and gender discrimination, and poor pay drove them to help unionize the city's laundry workers. Laundry work opened a door for African American women to enter industry, and their numbers allowed women like Adelmond and Robinson to join the vanguard of a successful unionization effort. But an affiliation with the powerful Congress of Industrial Organizations (CIO) transformed the union from a radical, community-based institution into a bureaucratic organization led by men. It also launched a difficult battle to secure economic and social justice for the mostly women and people of color in the plants. As Carson shows, this local struggle highlighted how race and gender shaped worker conditions, labor organizing, and union politics across the country in the twentieth century.
Meticulous and engaging, A Matter of Moral Justice examines the role of African American and radical women activists and their collisions with labor organizing and union politics.
* Publication supported by a grant from the Howard D. and Marjorie I. Brooks Fund for Progressive Thought
About the Author
Jenny Carson is an associate professor of history at Ryerson University.
Reviews
"An important new book. As a history of laundry workers and their 108-year struggle for justice from 1912 to 2020, it would have been important at any time. But publication in 2021, another year of the ongoing pandemic that continues to redefine the concept of 'essential workers,' makes this book especially relevant." --
People's World
"Even progressive organizations like the ACWA actively participated in the reproduction of racial and gender hierarchies within labour markets and within their own organizations. It is a sobering finding, albeit one tempered in Carson's account by extraordinary heroism of the laundry workers themselves." --
Labour
"The story Carson tells is an important one that highlights the obstacles to successful organization and the role played by grassroots activists in overcoming them." --
Register of the Kentucky Historical Society
---
Blurbs
"With this beautifully written, emotionally powerful book, Jenny Carson has rescued the history of organizing among African-American and Afro-Caribbean laundry workers from the shadows. Power laundries were the largest industrial employer of Black women in the U.S. in the first half of the twentieth century, but professional historians have paid little attention to these workers' long campaigns for justice. Carson narrates this crucial history with grace and verve, nuance and drama, centering the biographies of the remarkable organizers Dollie Robinson and Charlotte Adelmond and their struggle to bring decent working conditions and union recognition to a labor force made up almost entirely of women of color. As Carson relates struggles between Black women organizers and white male union leaders, fruitful but fraught alliances with Jewish organizers in the Women's Trade Union League and the Amalgamated Clothing Workers Union, she makes clear again and again how these movements were direct forebears of the Black Lives Matter and Fight for $15 movements. This history and its powerful actors are as relevant in 2020 as they have ever been. Brava."--Annelise Orleck, author of Rethinking American Women's Activism

"An engaging book on a workforce that has received surprisingly little attention from labor historians. Carson provides a highly readable analysis of how racialized and gendered were job assignments, union organizing campaigns, and labor politics."--Dennis Deslippe, author of Protesting Affirmative Action: The Struggle over Equality after the Civil Rights Revolution
---