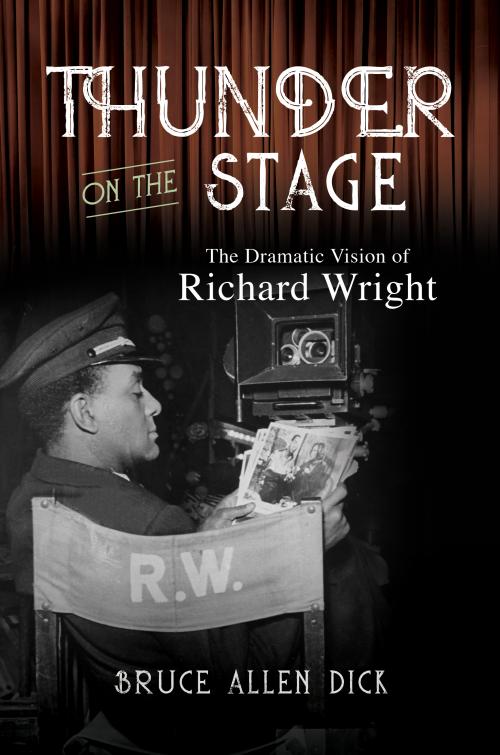 Thunder on the Stage
The Dramatic Vision of Richard Wright
Theater's impact on the writer's work and artistic worldview
Cloth – $110
978-0-252-04568-4
Paper – $27.95
978-0-252-08779-0
eBook – $14.95
978-0-252-05546-1
Publication Date
Paperback: 03/26/2024
Cloth: 03/26/2024
About the Book
Richard Wright's dramatic imagination guided the creation of his masterpieces
Native Son
and
Black Boy
and helped shape Wright's long-overlooked writing for theater and other performative mediums.
Drawing on decades of research and interviews with Wright's family and Wright scholars, Bruce Allen Dick uncovers the theatrical influence on Wright's oeuvre--from his 1930s boxing journalism to his unpublished one-acts on returning Black GIs in WWII to his unproduced pageant honoring Vladimir Lenin. Wright maintained rewarding associations with playwrights, writers, and actors such as Langston Hughes, Theodore Ward, Paul Robeson, and Lillian Hellman, and took particular inspiration from French literary figures like Jean-Paul Sartre. Dick's analysis also illuminates Wright's direct involvement with theater and film, including the performative aspects of his travel writings; the Orson Welles-directed Native Son on Broadway; his acting debut in Native Son's first film version; and his play "Daddy Goodness," a satire of religious charlatans like Father Divine, in the 1930s.
Bold and original, Thunder on the Stage offers a groundbreaking reinterpretation of a major American writer.
About the Author
Bruce Allen Dick is a professor emeritus of English at Appalachian State University. He is the author of A Poet's Truth: Conversations with Latino and Latina Poets and coauthor of American Soccer: History, Culture, Class.
Reviews
---
Blurbs
"Thunder on the Stage is a treasure trove of exciting riches for Richard Wright scholars and readers invested in twentieth-century theatre, performance, and film history. Expertly crafted and thoroughly researched from multiple archives and print sources, it delivers a revelatory excavation of Wright's known involvement with established theatrical companies and his little-known excursions into playwriting while also demonstrating his career-long interest in the stage and usage of dramatic works and authors, including Shakespeare. In this pathbreaking study, Bruce Dick gifts us with a fresh, formidable, and astute literary analysis of the processes and inspirations of a major author we thought we knew."--Thadious M. Davis, author of Southscapes: Geographies of Race, Region, and Literature
---