Previous
5
6
7
8
9
10
11
12
13
14
Next
African American Studies
A South Carolina Slave Community
Author: Charles Joyner
Pub Date: October 2009

A new edition of the classic study of slave life in the American South learn more...

New Histories of Black People
Author: Edited by Dawne Y. Curry, Eric D. Duke, and Marshanda A. Smith
Pub Date: August 2009

Exciting perspectives on the black diaspora's global histories learn more...

The Men, Women, and Children of the Birmingham Civil Rights Movement
Author: Edited by Horace Huntley and John W. McKerley
Pub Date: January 2009

Firsthand accounts from the Civil Rights Movement's frontlines learn more...

Author: Stephane Dunn
Pub Date: August 2008

An incisive analysis of gender and race in classic blaxploitation films learn more...

Author: Lisa Woolfork
Pub Date: December 2008

A unique study of slavery reenactments and performances in African American literature and culture learn more...

A Black Entrepreneur in Nineteenth-Century San Francisco
Author: Lynn M. Hudson
Pub Date: Cloth: 2003; Paper: 2008

Investigating Mary Ellen Pleasant's convoluted legacy learn more...

Reworking Anthropology in the Global Age
Author: Faye V. Harrison
Pub Date: March 2008

Envisioning new directions for an inclusive anthropology learn more...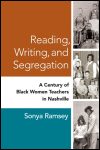 A Century of Black Women Teachers in Nashville
Author: Sonya Ramsey
Pub Date: February 2008

Teachers' stories of the segregation and integration of Nashville schools learn more...

The Making of an Industrial Proletariat, 1915-45
Author: Joe William Trotter, Jr.
Pub Date: November 2007

An updated version of a fiery classic learn more...

Race, Labor, and Civil Rights since Emancipation
Author: Edited by Eric Arnesen
Pub Date: July 2007

A multidimensional reader that explores the African American worker's experience since the Civil War learn more...

Previous
5
6
7
8
9
10
11
12
13
14
Next