Page:
1
2
3
4
5
6
Popular Culture
Klezmer, Polka, Tango, Zydeco, and More!
Author: Edited by Helena Simonett
Pub Date: October 2012

The accordion in the new world learn more...

Jane Tennison and Policing in Prime Suspect
Author: Gray Cavender and Nancy C. Jurik
Pub Date: August 2012

An insightful character-study of one of television's most compelling detectives learn more...


Popular Blues in America, 1850-1920
Author: Peter C. Muir
Pub Date: February 2010

The first comprehensive examination of the early blues industry and the music it produced learn more...

Explorations of History and Culture
Author: Edited by Anne L. Bower
Pub Date: January 2009

Moving beyond catfish and collard greens to the soul of African American cooking learn more...

Author: Stephane Dunn
Pub Date: August 2008

An incisive analysis of gender and race in classic blaxploitation films learn more...

Ethnic Voices, Musical Crossroads
Author: Mina Yang
Pub Date: March 2008

Probing the intersection of music and racial politics in California learn more...

Author: J. P. Telotte
Pub Date: July 2008

How Disney used the latest technology to become an entertainment powerhouse learn more...


A Documentary in Pictures and Words, 1966-86
Author: Carl Fleischhauer and Neil V. Rosenberg
Pub Date: 2007

The music and culture of bluegrass as revealed through striking photographs and commentary learn more...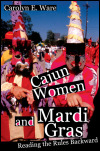 Reading the Rules Backward
Author: Carolyn E. Ware
Pub Date: March 2007

How Cajun women have creatively refashioned the tradition of rural Mardi Gras runs learn more...


Coping with Everyday Life, 1837-1920
Author: Perry R. Duis
Pub Date: 2007

Hard lives and how they were lived in old Chicago learn more...

Page:
1
2
3
4
5
6