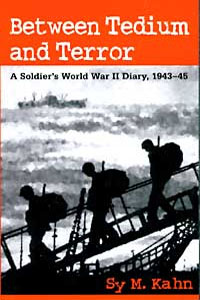 Between Tedium and Terror
A Soldier's World War II Diary, 1943-45
An on-the-ground, at-the moment, true WWII tale, wonderfully and sensitively written, and chronicling a young man's coming into maturity during some of the darkest days in 20th Century history--and one of less than a handful of actual diaries that came out of that war.
When Sy Kahn set off to serve in the Pacific during World War II, he was a bookish, naive nineteen-year-old, the youngest in his company. Convinced he would not survive the war, Kahn kept a meticulous record of his experiences as his "foxhole of the mind," even though keeping such a journal was forbidden by military regulations. His secret diary--one soldier's "mark against oblivion"--is a rare ground-level account of the war.
Often writing in tents by candlelight, in foxholes, or on board ships, Kahn documents life during four campaigns and over three hundred air attacks. He describes the 244th Port Company's backbreaking work of loading and unloading ships, the suffocating heat, the debilitating tropical diseases, and the relentless, sometimes terrifying bombings, accidents, casualties, and deaths.
His wartime odyssey also includes encounters with civilians in Australia, in the Philippines, and, as among the earliest occupation troops, in Japan. A detailed record of the daily cost of war, Kahn's journal reflects his increasing maturity and his personal coming of age, representative of thousands of young Americans who served in World War II.
---
"The compelling diary of a young man from Manhattan during the Pacific campaign--and one of the few WWII diaries published to date. . . . Kahn makes an ideal diarist: objective, observant, with a spicy dash of introspection. A WWII document of note." -- Kirkus Reviews
"Kahn's diary marvelously captures the daily grind and abrupt excitements of the war, and from an unusual angle. . . . His diary is special not so much for its depiction of warfare (although there's plenty of that), but as a chronicle of a sensitive young soldier's journey toward maturity. The book continuously engages as it reveals Kahn's distinctive personality and outlook." -- Publishers Weekly
This bookish New York teenager's diary provided him with a foxhole of the mind. "A literate, detailed, and compelling private's-eye view of a forgotten category of soldier in an almost equally forgotten theater of the war." --ALA Booklist
To order online:
//www.press.uillinois.edu/books/catalog/77hrm3er9780252069086.html
To order by phone:
(800) 621-2736 (USA/Canada)
(773) 702-7000 (International)
Related Titles