Gregory J. Kaliss, author of Beyond the Black Power Salute: Athlete Activism in an Era of Change, answers questions on his new book.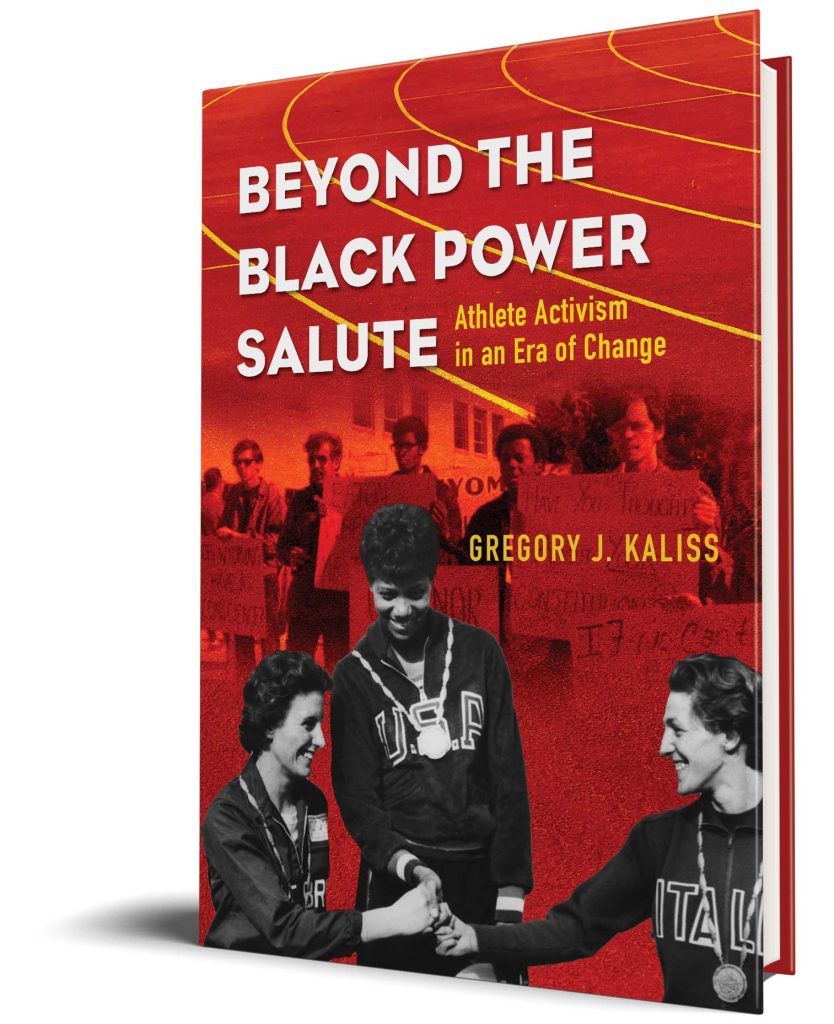 Q: Why did you decide to write this book?
In doing research and writing, and in planning out some of my courses (including a class on Race and Gender in American Sports), I kept trying to find a book that offered a synthesis of athlete activism in the 1960s and 1970s. This was an era that had lots of prominent athletes getting involved in various causes, but most of the work that had been done had been about individual athletes or individual events. I wanted to find something that tied different people and different sports together, that offered an overall assessment of the era. I decided that I had to write the book that I wanted to read.
Q: What is the most interesting discovery you made while researching and writing your book?
That issues of ownership and power/control remained largely unaffected by the upswell in activism in this era. It was surprising to see how many different athletes—Muhammad Ali, Billie Jean King, Jim Brown, Kathrine Switzer, etc.—fought for change in their respective sports but how little influence they had in affecting the fundamental power dynamics of each sport. While all of those athletes contributed to significant changes and certainly played an important role in inspiring women and minority athletes, they ended up failing to affect a power structure that remained mostly wealthy, white, and male.
Q: What myths do you hope your book will dispel or what do you hope your book will help readers unlearn?
I hope that readers get a better sense of the messiness of athlete activism in the past—that it was not just triumphant stories of Muhammad Ali being vindicated, or Billie Jean King getting equal pay. Instead, this was a time when athletes of all races, genders, sports, and amateur-professional status were pushing for a wide range of changes in American life. They achieved great things, but also encountered significant backlash—which helps explain the activism we have seen in recent years.
Q: Which part of the publishing process did you find the most interesting?
I really enjoyed getting to read editors' feedback and readers' reports on the book proposal and on the finished manuscript. Having an extra set of eyes to examine the research, to question the arguments, and to make suggestions regarding the writing and structure is really valuable. I didn't always agree with every comment or suggestion, but the book was made better by paying attention to that feedback.
Q: What is your advice to scholars/authors who want to take on a similar project?
Find a topic you want to learn more about and dive deep. Find as many voices from the past as you can—alternative forms of media can be really useful. A small tip: I found that presidential libraries were a useful source of images for the book—I used one photo from the Richard Nixon Library and one from the Gerald Ford Library.
Q: What do you like to read/watch/or listen to for fun?
I've been watching more professional soccer in recent years—the English Premier League, in particular. I like the global nature of the teams, the passion of the fans, and the beauty of the game. I also enjoy listening to the music of Taylor Swift—she is big with me, my wife, and my daughter! I'm a sucker for most Star Wars-related things, especially Andor, which was great.
Gregory J. Kaliss is an assistant professor of history at York College of Pennsylvania and author of Men's College Athletics and the Politics of Racial Equality: Five Pioneer Stories of Black Manliness, White Citizenship, and American Democracy.