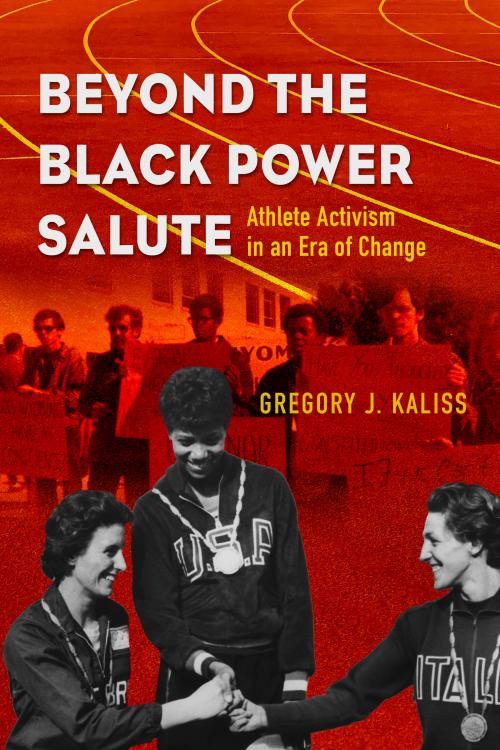 Beyond the Black Power Salute
Athlete Activism in an Era of Change
How a generation of athletes changed the games and laid the groundwork for the activism roiling today's sports world
Cloth – $110
978-0-252-04491-5
Paper – $24.95
978-0-252-08706-6
eBook – $14.95
978-0-252-05407-5
Publication Date
Paperback: 04/18/2023
Cloth: 04/18/2023
About the Book
Unequal opportunity sparked Jim Brown's endeavors to encourage Black development while Billie Jean King fought so that women tennis players could earn more money and enjoy greater freedom. Gregory J. Kaliss examines these events and others to guide readers through the unprecedented wave of protest that swept sports in the 1960s and 1970s. The little-known story of the University of Wyoming football players suspended for their activism highlights an analysis of protests by college athletes. The 1971 Muhammad Ali–Joe Frazier clash provides a high-profile example of the Black male athlete's effort to redefine Black masculinity. An in-depth look at the American Basketball Association reveals a league that put Black culture front and center with its style of play and shows how the ABA influenced the development of hip-hop. As Kaliss describes the breakthroughs achieved by these athletes, he also explores the barriers that remained--and in some cases remain today.
* Publication supported by a grant from the Winton U. Solberg US History Subvention Fund.
About the Author
Gregory J. Kaliss is an assistant professor of history at York College of Pennsylvania and author of Men's College Athletics and the Politics of Racial Equality: Five Pioneer Stories of Black Manliness, White Citizenship, and American Democracy.
Reviews
"Well researched and engaging . . . Valuable background reading for anyone interested in sports activism." --
Kirkus Reviews
---
Blurbs
"In his insightful book, Gregory Kaliss traces the revolutionary undercurrents that charged American sports during the Sixties. His collection of essays reveals how the era's political and cultural forces transformed the sporting arena into a stage for political activism among athletes of nearly every background. Kaliss deftly investigates how The Athletic Revolution, as it was known, redefined American sports and produced a backlash in its wake."--Johnny Smith, Julius C. "Bud" Shaw Professor of Sports History, Georgia Tech
---