Kristine M. McCusker, author of Just Enough to Put Him Away Decent: Death Care, Life Extension, and the Making of a Healthier South, 1900-1955, answers questions on her new book.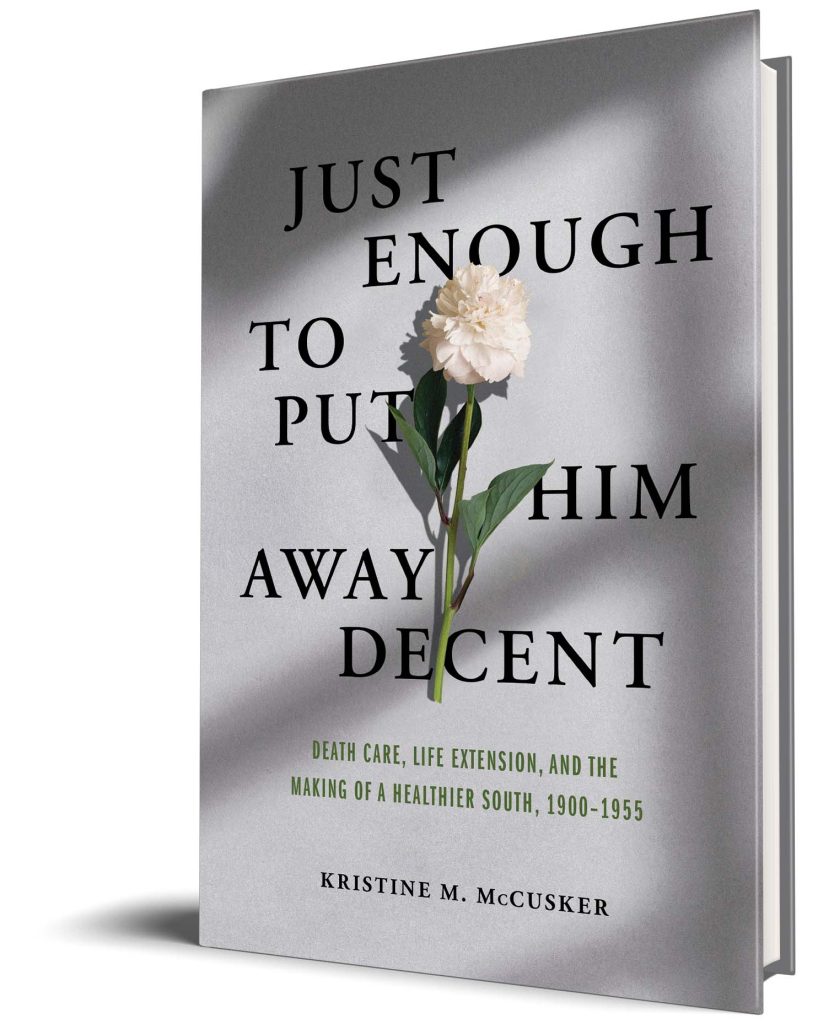 Q: Why did you decide to write this book?
I moved to Murfreesboro in 2000 and was driving down one of the main streets when I discovered the local cemetery. I saw statuary that I had never seen before – for example, the life like statues of a family with a child in leg braces (attached). It turned out to be something other than a grave marker: the Bristol Nelson School for the Feeble Minded (so-called in these pre-politically correct days) had poised the statue in front of its building before it was torn down for new medical buildings. The owners transferred the statue to the cemetery across the street when it moved. Still, the cemetery contained unique markers that I had never seen, suggesting that southerners thought differently (perhaps) about death and dying.
Q: What is the most interesting discovery you made while researching and writing your book?
There are many, many discoveries that were really significant. Black women purchasing purple coffins in large numbers and families opening up World War 2 soldier coffins after the war to view their dead one last time are just two. But the stories about two World War 2 aircraft crews – Harold Leazer's B-24 crew and William J. Faulkner's P-51 Mustang were poignant and meaningful. The world their families lived in after their deaths was one that was filled with mystery, compassion and sympathy.
Q: What myths do you hope your book will dispel or what do you hope your book will help readers unlearn?
Even though my focus is on the South, the significant shifts I identify in death and dying are really national changes. In many cases, the same shifts were happening elsewhere, but the timing was different. Choosing to use the South as my pinhole into these broader changes was a good choice because it was seen as a region uniquely identified with death and therefore, a national problem that needed a solution.
Q: Which part of the publishing process did you find the most interesting?
I really liked the interactions with my reviewers who took an unwieldy manuscript in hand and told me what worked and what did not. That helped me whittle the book down from 500 pages to 392 pages. When the review process is done correctly as it was here, it's not about beating up the writer but making the project better and making sure it's clear what my contribution to this field is.
Q: What is your advice to scholars/authors who want to take on a similar project?
Death studies is a difficult field because scholars have the opposite problem of most historians: instead of it being difficult to find sources, there is often too much information. Indeed, one of the arguments I make in the book isn't that everyone dies, but everyone dies and now leaves a lot of paperwork. It is imperative that scholars find a keyhole to access that information so they are not overwhelmed or write a 2000 page book. In my case, it was the emphasis on death care and the emergence of that new ritual – life extension – that helped me limit my scope. The initial draft still was 700 pages.
Q: What do you like to read/watch/or listen to for fun?
I'm an ethnomusicologist by training and live near Nashville, Tennessee (I teach at Middle Tennessee State University). Living so close to a dynamic musical city like Nashville means spending time in the city is a must and interspersing nonmusical activities with musical ones common. On any given weekend, I can go to the Southern Festival of Books, see Amythyst Kiah at the Ryman Auditorium on a Sunday night, go for a great bike road on the Shelby Bottoms trail, or watch former students perform around town.
Kristine M. McCusker is a professor of history, folklore, and ethnomusicology at Middle Tennessee State University. She is the author of Lonesome Cowgirls and Honky-Tonk Angels: The Women of Barn Dance Radio.