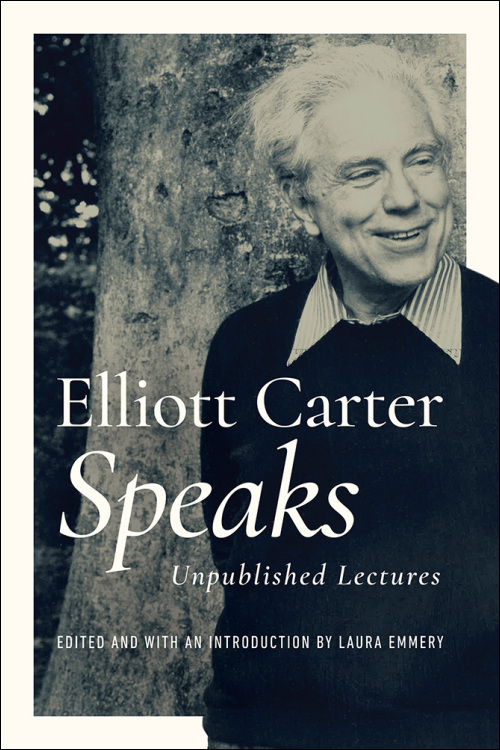 Elliott Carter Speaks
Unpublished Lectures
Revelatory talks by the Pulitzer Prize-winning composer
Cloth – $55
978-0-252-04420-5
eBook – $19.95
978-0-252-05316-0
Publication Date
Cloth: 08/16/2022
About the Book
These previously unpublished lectures by Elliott Carter date to the summer of 1967, when the acclaimed composer taught at the Contemporary Music Workshop held by the University of Minnesota. Leading an introductory course on orchestra repertoire, Carter gave nine hours of lectures covering principal topics like how to live with the musical present and whether the symphony orchestra was a relic of the past or a possible active force for new music. But Carter's observations and prompts by audience questions broadened the discussion into areas ranging from electronic music to analyses of works by other artists and himself. Laura Emmery presents the complete text from each session alongside introductions, commentary, and annotated examples that provide valuable context for readers.
Expansive and essential, Elliott Carter Speaks opens up the artist's teaching and introspection to new contemporary perspectives on his thought and art.
Please note that the order and arrangement of materials in this book differs from that of Elliott Carter's original lectures.
About the Author
Elliott Carter (1908-2012) was an American composer, educator, and two-time winner of the Pulitzer Prize for Music. His many works include String Quartet No. 1 and Piano Concerto. Laura Emmery is an assistant professor of music theory at Emory University. She is the author of Compositional Process in Elliott Carter's String Quartets: A Study in Sketches.
Reviews
---
Blurbs
"An exciting new contribution to Carter scholarship that documents one of the most important voices in concert music of the modern era. Audiences of contemporary music, musicians, and scholars of this era will find a rich new vein of material that reveals how Carter perceived his role in the musical history and culture of his time--along with a broad collection of analyses of compositions from Debussy and Bartok to Nono, Varèse, and Penderecki."--Douglas Rust, University of Southern Mississippi
---