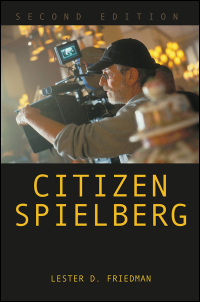 Citizen Spielberg
Unpacking a legendary film career
Cloth – $125
978-0-252-04413-7
Paper – $24.95
978-0-252-08618-2
eBook – $14.95
978-0-252-05307-8
Publication Date
Paperback: 01/25/2022
Cloth: 01/25/2022
About the Book
Steven Spielberg's extraordinary career redefined Hollywood, but his achievement goes far beyond shattered box office records. Rejecting the view of Spielberg as a Barnumesque purveyor of spectacle, Lester D. Friedman presents the filmmaker as a major artist who pairs an ongoing willingness to challenge himself with a widely recognized technical mastery.
This new edition of Citizen Spielberg expands Friedman's original analysis to include films of the 2010s like Lincoln and Ready Player One. Breaking down the works by genre, Friedman looks at essential aspects of Spielberg's art, from his storytelling concerns and worldview to the uncanny connection with audiences that has powered his longtime influence as a cultural force. Friedman's examination reveals a sustained artistic vision--a vision that shows no sign of exhausting itself or audiences after Spielberg's nearly fifty years as a high-profile filmmaker.
Incisive and discerning, Citizen Spielberg, Second Edition, offers a career-spanning appraisal of a moviemaking icon.
About the Author
Lester D. Friedman is an emeritus professor and former chair of the Media and Society Program at Hobart and William Smith Colleges. He has written books on film genres, American cinema of the 1970s, American Jewish cinema, British film of the 1980s, health and humanities, Peter Pan, Frankenstein, and Clint Eastwood. He is a recipient of the National Jewish Book Award and also a Jeopardy! champion.
Reviews
---
Blurbs
"Citizen Spielberg is an indispensable study of outstanding scholarship and criticism about Steven Spielberg's life, work, and place in American film and cultural history. Friedman writes with commitment and conviction, opening new channels of understanding into Spielberg, his films, and his times."--Sam B. Girgus, author of Clint Eastwood's America

Praise for the previous edition:

"Friedman's treatment is an exhaustive and necessary catalog."--American Interest

"There is [a lack of] an exhaustive overview of the components of Spielberg's corpus, the issues which animate his most significant works, the roots of his immense popularity amongst audiences, and the influence his vast spectrum of imaginative products exerts on the public consciousness. Friedman fills that void with a systematic analysis of the various genres in which the director has worked and concludes that Spielberg's films present a sustained artistic vision combined with a technical flair matched by few other filmmakers, and makes a compelling case for Spielberg to be considered as a major film artist."--Screening the Past

"Citizen Spielberg does a service to a monstrously influential director and an oeuvre whose investigations of emotion--especially constrained masculine emotions--have received insufficient book-length study."--Bloomsbury Review

"Friedman seeks a more nuanced approach to Spielberg's cinematic output as director; taking readers through an analysis of his films and responding to the critical assessments of others, Friedman asserts that 'Spielberg is a far more complex, sophisticated, and wry filmmaker than most mainstream critics and academic scholars appreciate.'"--Shofar

"Encourage your brightest students to investigate Citizen Speilberg. It's the sort of book that by eschewing jargon but employing serious critical analysis could have a profound effect."--Splice
---