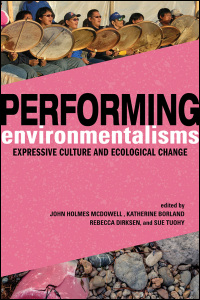 Performing Environmentalisms
Expressive Culture and Ecological Change
Essays on the artistic response of traditional peoples to environmental peril
Cloth – $110
978-0-252-04403-8
Paper – $30
978-0-252-08609-0
eBook – $19.95
978-0-252-05297-2
Publication Date
Paperback: 09/14/2021
Cloth: 09/14/2021
About the Book
Performing Environmentalisms
examines the existential challenge of the twenty-first century: improving the prospects for maintaining life on our planet. The contributors focus on the strategic use of traditional artistic expression--storytelling and songs, crafted objects, and ceremonies and rituals--performed during the social turmoil provoked by environmental degradation and ecological collapse. Highlighting alternative visions of what it means to be human, the authors place performance at the center of people's responses to the crises. Such expression reinforces the agency of human beings as they work, independently and together, to address ecological dilemmas. The essays add these people's critical perspectives--gained through intimate struggle with life-altering force--to the global dialogue surrounding humanity's response to climate change, threats to biocultural diversity, and environmental catastrophe.
Interdisciplinary in approach and wide-ranging in scope, Performing Environmentalisms is an engaging look at the merger of cultural expression and environmental action on the front lines of today's global emergency.
Contributors: Aaron S. Allen, Eduardo S. Brondizio, Assefa Tefera Dibaba, Rebecca Dirksen, Mary Hufford, John Holmes McDowell, Mark Pedelty, Jennifer C. Post, Chie Sakakibara, Jeff Todd Titon, Rory Turner, Lois Wilcken
About the Author
John Holmes McDowell
is a professor of folklore and ethnomusicology at Indiana University. His books include
Poetry and Violence: The Ballad Tradition of Mexico's Costa Chica
.
Katherine Borland
is an associate professor and director of the Center for Folklore Studies at The Ohio State University.
Rebecca Dirksen
is an associate professor of folklore and ethnomusicology at Indiana University and the author of
After the Dance, the Drums Are Heavy: Carnival, Politics, and Musical Engagement in Haiti
.
Sue Tuohy
is an emerita senior lecturer of folklore and ethnomusicology and adjunct faculty in East Asian languages and cultures and in global and international studies at Indiana University.
---
Also by this author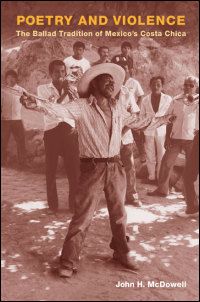 Reviews
---
Blurbs
"This collection is enriched by a broad range of disciplinary and analytic perspectives and the authors' deep and long-standing commitments to the naturalcultural worlds they explore. Readers from across the humanities will find novel points of departure in confronting ecocidal inequalities and all-hands-on-deck challenges to collective survival."--Charles L. Briggs, author of Unlearning: Rethinking Poetics, Pandemics, and the Politics of Knowledge
---