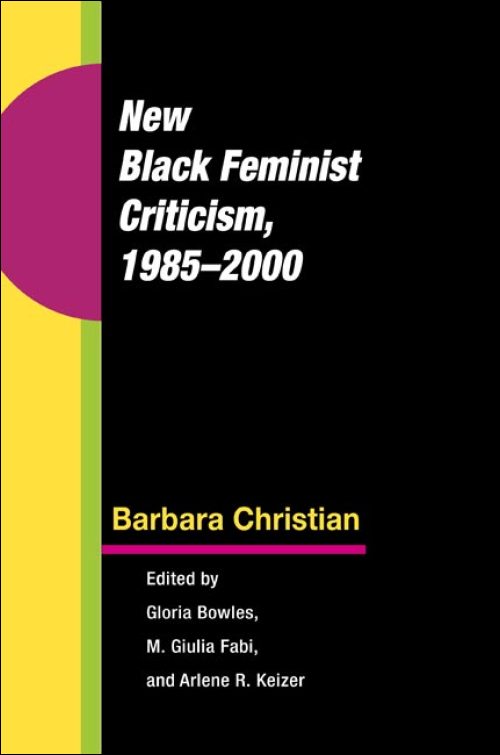 New Black Feminist Criticism, 1985-2000
Edited by Gloria Bowles, M. Giulia Fabi, and Arlene Keizer
A passionate and celebrated pioneer in her own words
Cloth – $39
978-0-252-03180-9
eBook – $19.95
978-0-252-09082-0
Publication Date
Cloth: 10/08/2007
About the Book
"For me, doing black feminist criticism involved a literary activism that went beyond the halls of academe, not because I had so legislated but because in practice that is what it often, happily, had to be."--Barbara Christian, from "But What Do We Think We're Doing Anyway?"
New Black Feminist Criticism, 1985-2000 collects a selection of essays and reviews from Barbara Christian, one of the founding voices in black feminist literary criticism. Touching on her roles as a scholar, teacher, feminist, intellectual, and university activist, this extensive collection of Christian's work demonstrates the wide-ranging scholarship of a passionate and celebrated pioneer. These memorable pieces, which were published between the release of her second landmark book, Black Feminist Criticism, and her death, include evaluations of black feminist criticism as a discipline; reflections on black feminism in the academy; eloquent reviews; and essays on Toni Morrison, Alice Walker, Paule Marshall, and others.
About the Author
Barbara Christian (1943-2000) was an acclaimed professor of African American studies at the University of California, Berkeley, and the author of Black Women Novelists: The Development of a Tradition, 1892-1976 and Black Feminist Criticism: Perspectives on Black Women Writers. Gloria Bowles was the founding coordinator of women's studies at the University of California, Berkeley, and is the coeditor of Theories of Women's Studies and author of Louise Bogan's Aesthetic of Limitation. M. Giulia Fabi is an associate professor of American literature at the University of Ferrara, Italy, and the author of Passing and the Rise of the African American Novel. Arlene R. Keizer is an associate professor of English, American studies, and Africana studies at Brown University and the author of Black Subjects: Identity Formation in the Contemporary Narrative of Slavery.
Reviews
---
Blurbs
"These essays bring together in a wonderfully synoptic fashion the themes and urgencies that defined Barbara Christian's work for the entirety of her thirty-year career."--Deborah E. McDowell, Alice Griffin Professor of English, University of Virginia

"A timely and immensely valuable collection of writings by a pioneering scholar, committed activist, and loving teacher. The care and thought with which the editors have chosen, edited, and arranged these writings shows us how deeply they understand and appreciate a beloved African American feminist thinker and writer whose life and work were devoted to challenging injustice and illuminating the world with her poetic intelligence and love of beauty."--Elaine Kim, coauthor of Fresh Talk/Daring Gazes: Conversations on Asian American Art

"Barbara Christian was often the first or the most provocative in identifying a problem, interpreting a situation, and suggesting appropriate solutions. More important, she was the epitome of a scholar/teacher/activist who knew education is a way of life and a way of making ideals live. This book showcases Christian's pioneering efforts to develop theory/practice learning that combines race, class, gender, and sexuality to make possible interdisciplinary and multifaceted 'reconsiderations' for her generation and for those to come."--Frances Smith Foster, coeditor of The Norton Anthology of African American Literature
---