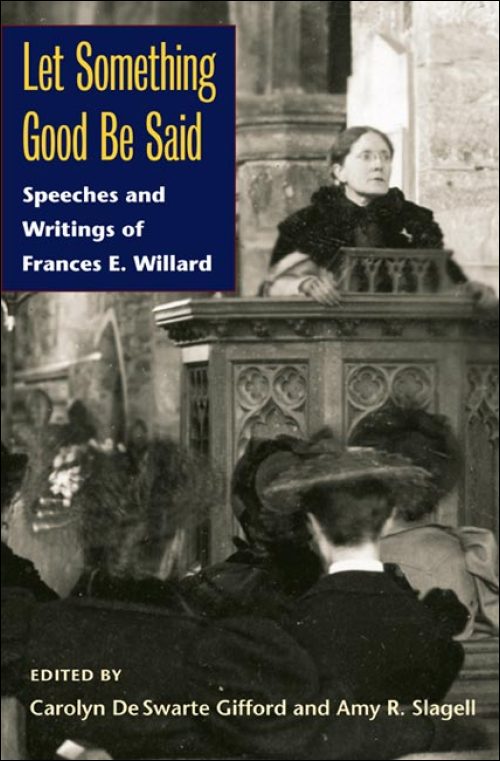 Let Something Good Be Said
Speeches and Writings of Frances E. Willard
The definitive collection of speeches and writings of one of America's most important social reformers
Cloth – $49
978-0-252-03207-3
Publication Date
Cloth: 08/06/2007
About the Book
Celebrated as the most famous woman in America at the time of her death in 1898, Frances E. Willard was a leading nineteenth-century American temperance and women's rights reformer and a powerful orator. President of Evanston College for Ladies (before it merged with Northwestern University) and then professor of rhetoric and aesthetics and the first dean of women at Northwestern, Willard is best known for leading the Woman's Christian Temperance Union (WCTU), America's largest women's organization. The WCTU shaped both domestic and international opinion on major political, economic, and social reform issues, including temperance, women's rights, and the rising labor movement. In what Willard regarded as her most important and far-reaching reform, she championed a new ideal of a powerful, independent womanhood and encouraged women to become active agents of social change. Willard's reputation as a powerful reformer reached its height with her election as president of the National Council of Women in 1888.
This definitive collection follows Willard's public reform career, providing primary documents as well as the historical context necessary to clearly demonstrate her skill as a speaker and writer who addressed audiences as diverse as political conventions, national women's organizations, teen girls, state legislators, church groups, and temperance advocates. Including Willard's representative speeches and published writings on everything from temperance and women's rights to the new labor movement and Christian socialism, Let Something Good Be Said is the first volume to collect the messages of one of America's most important social reformers who inspired a generation of women to activism.
About the Author
Frances E. Willard (1839-1898) was a reformer, feminist, and longtime leader of the Woman's Christian Temperance Union. Carolyn De Swarte Gifford is editor of Writing Out My Heart Selections from the Journal of Frances E. Willard, 1855–96. Amy R. Slagell is Associate Dean for Academic Programs in the College of Liberal Arts and Sciences at Iowa State University.
Reviews
"Gifford and Slagell have done an admirable job of choosing works that reflect the evolution and tenor of Willard's thought. . . . Those readers interested in a fine sampling of this important woman's discourse, a sample that illustrates the breadth and depth of her work, could do no better than Gifford and Slagell's anthology of Frances E. Willard's speeches and writings."--
Journal of Illinois History
"Gifford and Slagell apply their combined expertise in history, gender studies, and rhetoric to select, edit, annotate, and contextualize twenty-two excerpts from Frances Willard's speeches and publication, 1874-97. . . . Highly recommended."--
Choice
---
Blurbs
"This collection is perfect, offering the best of Willard without overwhelming the reader. The documents chosen illustrate Willard's uncanny political sense and ability to turn a phrase, as well as her personal trajectory through the halls of temperance, into the wide arena of national and international reforms."--Mari Jo Buhle, William R. Kenan, Jr. University Professor of American civilization and history, Brown University

"Let Something Good Be Said is the definitive collection of speeches and writings of Frances Willard, one of the most prominent American reformers and political activists and one of the most prolific female speakers and writers of the nineteenth century. As the recognized experts on Willard in the fields of history and rhetorical studies, DeSwarte Gifford and Slagell have expertly selected and annotated the first primary-text collection of her speeches and writings, providing an invaluable resource for scholars and students from a wide array of disciplines, including those interested in temperance, Gilded/Populist era social reform, and Willard herself."--Susan Zaeske, author of Signatures of Citizenship: Petitioning, Antislavery, and Women's Political Identity
---