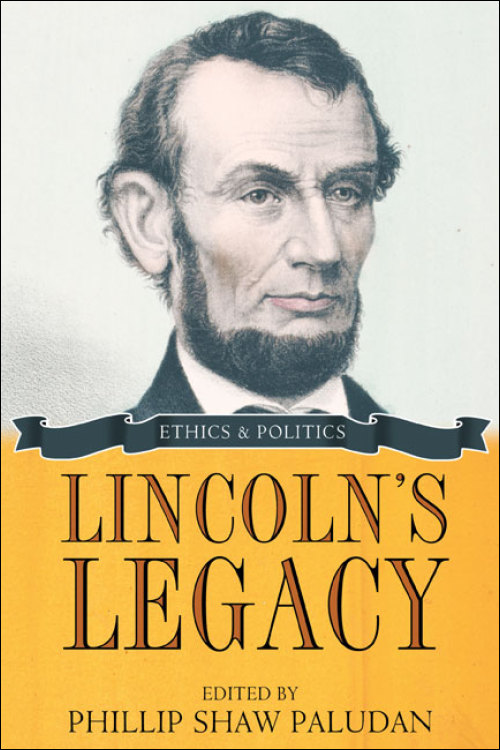 Lincoln's Legacy
Ethics and Politics
Understanding Lincoln's influence on twenty-first century law and politics
Cloth – $33
978-0-252-03223-3
Publication Date
Cloth: 01/07/2008
About the Book
The four new essays in
Lincoln's Legacy
depict major problems that the sixteenth president navigated and what can be learned from how he did so. Along with Phillip Shaw Paludan, three other distinguished and award-winning Lincoln scholars--William Miller, Mark E. Neely Jr., and Mark Summers--describe how Abraham Lincoln contended with questions of politics, law, constitutionalism, patronage, and democracy. These focused essays include an assessment of Lincoln's virtues in the presidency; the first study on Lincoln and patronage in more than a decade; a challenge to the cliché of Lincoln the democrat; and a study of habeas corpus, Lincoln, and state courts.
On the eve of the bicentennial celebration of Lincoln's birth, Lincoln's Legacy highlights his relevance to contemporary issues of law, politics, equality, the rule of law, and political and constitutional leadership. Among the problems he encountered were corruption in government ranks, political disagreements rooted in regionalism, wartime quarrels with the judiciary and legislative branches, and disputes concerning moral obligations. Although Lincoln would be unlikely to recognize many aspects of modern America, a surprising number of issues that he faced during his tumultuous presidency still resonate in twenty-first century politics.
About the Author
Phillip Shaw Paludan was the Naomi B. Lynn Distinguished Chair of Lincoln Studies at the University of Illinois, Springfield, and author of War and Home: The Civil War Encounter, A People's Contest: The Union and Civil War 1861-1865, and The Presidency of Abraham Lincoln among other books. He was a recipient of the Barondess-Lincoln Award of New York's Civil War Round Table and the Lincoln Prize from Gettysburg College.
Reviews
"Students of the Civil War and of political history more generally will welcome this collection of four essays on important aspects of Lincoln's presidency."--
Journal of Illinois History
"Contains thoughtful essays by four prominent scholars of the Civil War era. The essays focus on important questions about democracy, equality, the rule of law, and political ethics that Abraham Lincoln confronted, questions that are still relevant to us today."--
Journal of American History
"Earns its place on the shelf of every Lincoln enthusiast."--
Journal of Southern History
---
Blurbs
"Lincoln's Legacy includes essays by four renowned scholars of Lincoln and the Civil War. The essays are each outstanding in their own right and offer fresh new perspectives on Lincoln's leadership, the role of patronage and spoils, Lincoln's ideas on democracy, and the role of freedom of speech and the judiciary in the Civil War."--Ronald C. White Jr., author of The Eloquent President: A Portrait of Lincoln Through His Words

"Readers who may be wary of books about Lincoln's 'legacy,' which often feature an overdose of apologetics and adulation, will be agreeably surprised and much enlightened by these authoritative and highly readable essays."--Douglas L. Wilson, codirector of the Lincoln Studies Center, Knox College, and author of Lincoln's Sword: The Presidency and the Power of Words
---