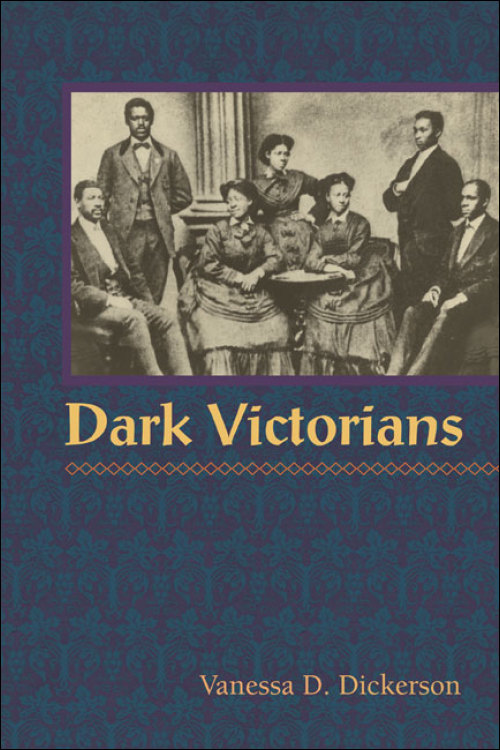 Dark Victorians
Understanding connections between black Americans and white Victorian Britons
Cloth – $39
978-0-252-03256-1
eBook – $19.95
978-0-252-09098-1
Publication Date
Cloth: 03/24/2008
About the Book
Dark Victorians
illuminates the cross-cultural influences between white Britons and black Americans during the Victorian age. In carefully analyzing literature and travel narratives by Ida B. Wells, Harriet Martineau, Charles Dickens, Frederick Douglass, Thomas Carlyle, W. E. B. Du Bois, and others, Vanessa D. Dickerson reveals the profound political, racial, and rhetorical exchanges between the groups. Evoking moral and political debates of the Victorian age, this study investigates how African Americans and Britons perceived each another. Black America's romance with Victorian Britain and Britons' knowledge of black Americans, Dickerson argues, was largely the result of travelers who crossed the Atlantic and then shared their experiences--often by publishing them in nonfictional or fictional forms--with their compatriots.
From nineteenth-century black nationalist David Walker, who urged emigrating African Americans to turn to England, to twentieth-century writer Maya Angelou, who recalls how those she knew in her childhood aspired to Victorian ideas of conduct, black Americans have consistently embraced Victorian England. In tracing the origins of this connection, Dark Victorians considers how philanthropic and abolitionist Victorian discourses influenced black identity and racism in America and how Britons negotiated their support of African Americans with the controlling policies they used to govern a growing empire of dark-skinned peoples.
About the Author
Vanessa D. Dickerson is a professor of English at DePauw University, the author of Victorian Ghosts in the Noontide: Women Writers and the Supernatural, and coeditor of Recovering the Black Female Body.
Reviews
"[
Dark Victorians'
] sustained focus on the fluid nature of cultural exchange between Victorian Britain and African America offers a significant addition to the field by providing a more comprehensive view of transatlantic authorship on slavery and race in the antebellum period."--
Journal of American History
"Illustrates the links forged between two unlikely groups of Victorians 'who continue to speak to each other' today."--
American Historical Review
"A valuable addition to Victorian scholarship."--
Journal of Southern History
---
Blurbs
"Dickerson's premise is brilliant in its simplicity: crossing the Atlantic, both literally and figuratively, had a profound effect on how black Americans came to see themselves and the United States. Their pilgrimages were driven by a desire to isolate America, to pressure it to live up to its principles of equality. What Britain knew of black America was also largely a result of the efforts of the sojourners."--Richard Blackett, author of Divided Hearts: Britain and the American Civil War

"Richly textured, well researched, and compelling, Dark Victorians is concerned with unquestionably important and timely issues. Its explorations of critically significant works by a group of culturally and ethnically diverse authors of the Victorian age will be of great value to both scholars and students in fields such as African American, Victorian, and American literary studies."--Nicole King, author of C. L. R. James and Creolization: Circles of Influence
---