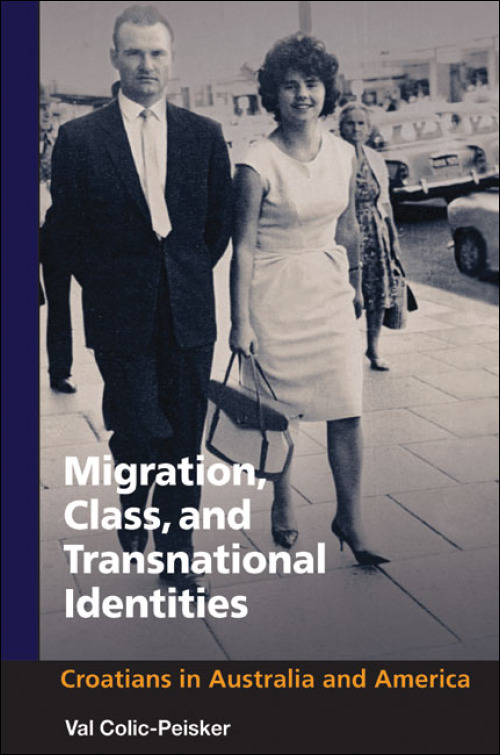 Migration, Class, and Transnational Identities
Croatians in Australia and America
Transnational migration from the Balkans to Western Australia
Cloth – $49
978-0-252-03360-5
eBook – $19.95
978-0-252-09086-8
Publication Date: December 2008
About the Book
Val Colic-Peisker harnesses concepts and theories from sociology, anthropology, and political science to compare the vastly different experiences of two Croatian immigrant cohorts in the city of Perth, Western Australia. The populations explored represent an earlier group of working-class migrants arriving from communist Yugoslavia from the 1950s to 1970s and a later group of urban professionals arriving in the 1980s and 1990s as 'independent' or skills-based migrants. This latter group integrated into professional ranks but also used their Australian experience as a stepping stone in becoming part of a highly mobile global professional middle class.
Employing a refined theoretical analysis, this rich ethnography challenges the domination of the ethnic perspective in migration studies and the idea of ethnic community itself. It emphasizes the importance of class, focusing on the intersection of class, ethnicity, and gender in the process of migration, migrant incorporation, and transnationalism. In theorizing the connection of the two migrant cohorts with their native Croatia, the study introduces concepts of "ethnic" and "cosmopolitan" transnationalism as two distinctive experiences mediated by class.
About the Author
Val Colic-Peisker is an associate professor in the School of Global, Urban and Social Studies at the Royal Melbourne Institute of Technology. She is the coauthor of The Age of Post-Rationality: Limits of Economic Reasoning in the Twenty-First Century and the author of Split Lives: Croatian Australian Stories.
Reviews
"Recommended."--
Choice
"Well-informed about the current research agenda and theoretical debates of immigration studies. . . . Engagingly written, and with proposed arguments supported by extensive citations from interviewees, the book is an evident accomplishment."--
American Historical Review
"An outstanding study. . . . Written with (com)passion and commitment, and profound understanding of many complex and interrelated migration processes and issues."--
Labour/Le Travail
---
Blurbs
"Val Colic-Peisker has done much to illuminate this important element in Australian society and to question some long-held beliefs about the maintenance of cultures in diasporic communities. Her comparisons with the Croatian elements in American society are of considerable interest. Those who seek to understand the human processes arising from global movement and resettlement should welcome this important study."--James Jupp, former Director of the Centre for Immigration and Multicultural Studies, Australian National University

"A comprehensive and vibrant account of Croatian migration to Australia, which is as attendant to conceptual detail as it is heartfelt. Readers are treated to an erudite discussion of key concepts in migration studies that are embedded in rich ethnographic accounts of lived experience. The result is an important critique of ethnicity and a reevaluation of the place of class analysis in the migration process."--Loretta Baldassar, author of Visits Home: Migration Experiences Between Italy and Australia
---