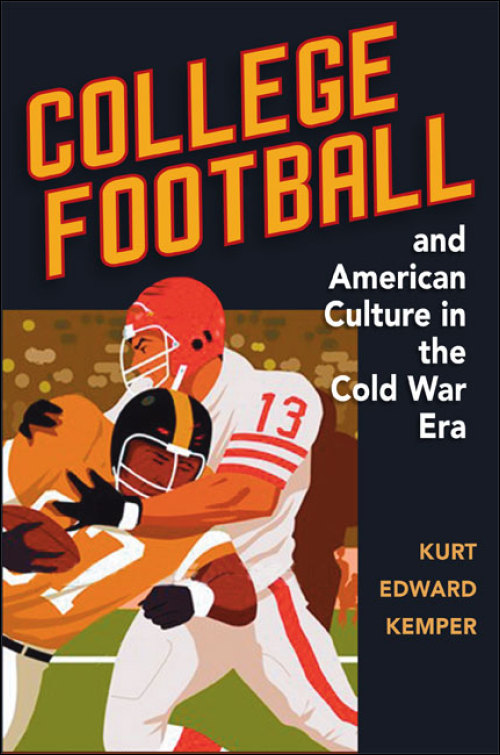 College Football and American Culture in the Cold War Era
Waging the Cold War's ideological battles on the gridiron
Cloth – $37
978-0-252-03466-4
Publication Date
Cloth: 08/17/2009
About the Book
The Cold War era spawned a host of anxieties in American society, and in response, Americans sought cultural institutions that reinforced their sense of national identity and held at bay their nagging insecurities. They saw football as a broad, though varied, embodiment of national values. College teams in particular were thought to exemplify the essence of America: strong men committed to hard work, teamwork, and overcoming pain. Toughness and defiance were primary virtues, and many found in the game an idealized American identity.
In this book, Kurt Kemper charts the steadily increasing investment of American national ideals in the presentation and interpretation of college football, beginning with a survey of the college game during World War II. From the Army-Navy game immediately before Pearl Harbor, through the gradual expansion of bowl games and television coverage, to the public debates over racially integrated teams, college football became ever more a playing field for competing national ideals. Americans utilized football as a cultural mechanism to magnify American distinctiveness in the face of Soviet gains, and they positioned the game as a cultural force that embodied toughness, discipline, self-deprivation, and other values deemed crucial to confront the Soviet challenge.
Americans applied the game in broad strokes to define an American way of life. They debated and interpreted issues such as segregation, free speech, and the role of the academy in the Cold War. Including entire chapters on the cultural significance of football at Ohio State, LSU, Alabama, and UCLA amidst wartime and postwar anxieties, College Football and American Culture in the Cold War Era offers a bold new contribution to our understanding of Americans' assumptions and uncertainties regarding the Cold War.
Reviews
"A significant book in understanding how college football, the dominating college sport, was impacted by both the Cold War and racial relations in the turbulent period around the 1960s."--
The International Journal of the History of Sport
---
Blurbs
"A provocative, richly detailed, and deeply researched study of college football's role as an embodiment of defiantly 'American' values during the Cold War. An important contribution to sports history and a model of exemplary research."--Michael Oriard, author of The End of Autumn: Reflections on My Life in Football

"This wonderful work examines an extremely interesting and revealing episode in the history of college football that exposes the significance of race as a force in the society of the late 50s and early 60s. It demonstrates the power of Cold War rhetoric as a political device for the defenders of the status quo."--Richard C. Crepeau, past president of the North American Society for Sport History and author of Baseball: America's Diamond Mind
---