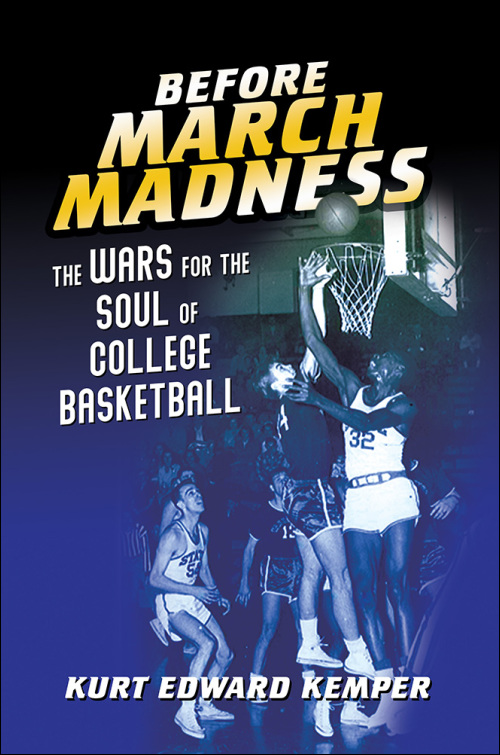 Before March Madness
The Wars for the Soul of College Basketball
Idealism, power, and the campaign to monetize college hoops
Cloth – $125
978-0-252-04326-0
Paper – $24.95
978-0-252-08518-5
eBook – $14.95
978-0-252-05214-9
Publication Date
Paperback: 08/24/2020
Cloth: 08/24/2020
About the Book
Big money NCAA basketball had its origins in a many-sided conflict of visions and agendas. On one side stood large schools focused on a commercialized game that privileged wins and profits. Opposing them was a tenuous alliance of liberal arts colleges, historically black colleges, and regional state universities, and the competing interests of the NAIA, each with distinct interests of their own.
Kurt Edward Kemper tells the dramatic story of the clashes that shook college basketball at mid-century—and how the repercussions continue to influence college sports to the present day. Taking readers inside the competing factions, he details why historically black colleges and regional schools came to embrace commercialization. As he shows, the NCAA's strategy of co-opting its opponents gave each group just enough just enough to play along—while the victory of the big-time athletics model handed the organization the power to seize control of college sports.
An innovative history of an overlooked era, Before March Madness looks at how promises, power, and money laid the groundwork for an American sports institution.
Reviews
"Kemper's research is diligent and exhaustive, and for those who like the inner-workings of college sports and its history, it's an invaluable guide to an overlooked chapter in the evolution of amateur athletics." --
Sports Biblio Reader
"He does a masterful job of sorting out the various organizations that sponsored amateur basketball and providing details about their rivalries for dominance in the first six decades of the twentieth century." --
History of Education Quarterly
"The author has a deep familiarity with and understanding of the subject matter, and he comfortably and compellingly situates
Before March Madness
within the landscape of existing sport history literature. . . . Unique, impressive, and insightful." --
Journal of Arizona History
"Kemper details the unsuccessful fight by small colleges to keep basketball from becoming highly commercialized in the hands of the larger universities, as had happened with football. . . .
Before March Madness
is well researched. . . . It is well written and maintains a captivating flow." --
Review of High Education
"Kurt Kemper's history on the rise of college basketball is a valuable addition to the University of Illinois Press's Sport and Society series. . . . One hopes that Kemper will follow this excellent book with another on the madness that the NCAA basketball tournament has become." --
Journal of Sport History
---
Blurbs
"A well-researched and provocative inquiry into the contentious early development of college basketball. Kemper lucidly exposes the numerous conflicts over fundamental principles and specific policies that repeatedly erupted before the NCAA seized complete control of the sport in 1957."--Charles Martin, author of Benching Jim Crow: The Rise and Fall of the Color Line in Southern College Sports, 1890–1980

"An impressive and important work, Before March Madness powerfully illustrates the internecine conflicts between rival collegiate organizations and how the NCAA was forced to confront its racist, duplicitous, and often indifferent behaviors to ultimately emerge triumphant in the late 1950s."--Milton Katz, Kansas City Art Institute
---