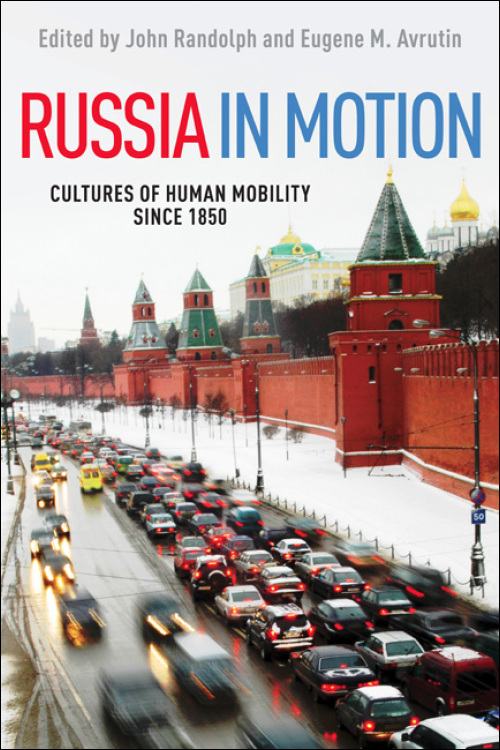 Russia in Motion
Cultures of Human Mobility since 1850
Understanding Russia's recent past and present, through the study of how people move
Cloth – $57
978-0-252-03703-0
Publication Date
Cloth: 07/26/2012
About the Book
Since its rapid imperial expansion in the seventeenth century, Russia's politics, society, and culture have exerted a profound influence on movement throughout Eurasia. The circulation of people, information, and things across Russian space transformed populations, restructured collective and individual identities, and created enduring legacies. This volume represents the latest discoveries of scholars attempting to rediscover this experience, and to understand its lasting meaning for today.
These gathered essays tell a broad range of stories, involving a remarkable cross-section of historical actors: imperial visionaries, stage-coach entrepreneurs, religious pilgrims, tourists, disability activists, and metropolitan police, among others. The book illuminates three major themes: the role of human mobility in Russian governance; the processes by which people decide where and how to move; and the political and cultural power of different kinds of movement.
A strong contribution to our understanding of the history of Russia and the Soviet Union, this volume offers new models of research for historians, sociologists, political scientists, and others who are seeking to integrate the study of human mobility into their work.
Contributors are Eugene M. Avrutin, Alexandra Bekasova, Faith Hillis, Gijs Kessler, Diane P. Koenker, Chia Yin Hsu, Eileen Kane, Anne Lounsbery, Matthew Light, Sarah D. Phillips, John Randolph, Anatolyi Remnev, Jeff Sahadeo, Frithjof Benjamin Schenk, Charles Steinwedel, Willard Sunderland, and Elena Tyuryukanova.
About the Author
John Randolph is an associate professor of history at the University of Illinois at Urbana-Champaign. Eugene M. Avrutin is an assistant professor of modern European Jewish history and Tobor Family Scholar in the Program of Jewish Culture and Society at the University of Illinois at Urbana-Champaign.
Reviews
"Highly recommended. Randolph and Avrutin have done much to place mobility into the mainstream of Russian historiography."--
The Russian Review
"An important contribution to Russian history."--
Revolutionary Russia
"A meritorious contribution."--
Journal of Transport History
"This is an absorbing collection of essays that will repay reading by historians and social scientists. . . . A good introduction to the latest scholarship on the rewards but also the discontents and hidden injuries of migration."--
Slavic Review
"New ways of looking at Russian society are well exploited, and hitherto ignored or unnoticed facts are revealed about individuals or institutions. This is a book that really does repay its reader."--
The Slavonic and East European Review
---
Blurbs
"This well-crafted collection of essays brings together a comprehensive selection of new research on mobility in Russia from the Tsarist Empire's westernmost provinces to the Far East. Of worldwide interest to scholars in migration studies as well as Eastern European studies."--Dirk Hoerder, author of Cultures in Contact: World Migrations in the Second Millennium"An important contribution to Russian history."--Revolutionary Russia
---