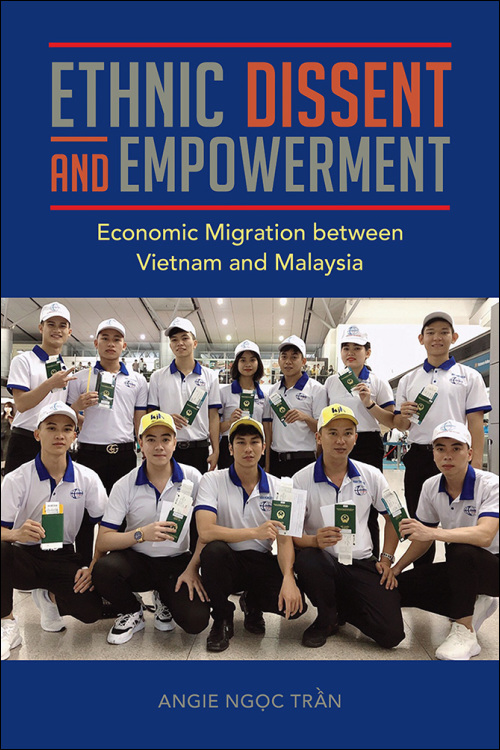 Ethnic Dissent and Empowerment
Economic Migration between Vietnam and Malaysia
The lives of migrant workers from Vietnam and the systems that use them
Cloth – $125
978-0-252-04336-9
Paper – $30
978-0-252-08527-7
eBook – $19.95
978-0-252-05224-8
Publication Date
Paperback: 01/11/2022
Cloth: 01/11/2022
About the Book
Vietnam annually sends a half million laborers to work at low-skill jobs abroad. Angie Ngọc Trần concentrates on ethnicity, class, and gender to examine how migrant workers belonging to the Kinh, Hoa, Hrê, Khmer, and Chãm ethnic groups challenge a transnational process that coerces and exploits them. Focusing on migrant laborers working in Malaysia, Trần looks at how they carve out a third space that allows them a socially accepted means of resistance to survive and even thrive at times. She also shows how the Vietnamese state uses Malaysia as a place to send poor workers, especially from ethnic minorities; how it manipulates its rural poor into accepting work in Malaysia; and the ways in which both countries benefit from the arrangement.
A rare study of labor migration in the Global South, Ethnic Dissent and Empowerment answers essential questions about why nations export and import migrant workers and how the workers protect themselves not only within the system, but by circumventing it altogether.
About the Author
Angie Ngọc Trần is a professor of political economy at California State University, Monterey Bay. She is the author of Ties That Bind: Cultural Identity, Class, and Law in Vietnam's Labor Resistance.
Reviews
---
Blurbs
"Focusing on Vietnam's labor export policy to Malaysia, Angie Tr?n shows us why gender and ethnic hierarchies matter in remaking the politics of control and dissent. Essential reading for all those interested in South-South labor brokerage and temporary migration."--Brenda S. A. Yeoh, coeditor of Routledge Handbook of Asian Migrations

"This book features workers describing their conditions as laborers in foreign countries. Often shining through is how workers turned adversities into triumphs, usually modest but still invigorating. Also significant is that the workers are from five ethnic groups within Vietnamese society."--Benedict J. Tria Kerkvliet, author of Speaking Out in Vietnam: Public Political Criticism in a Communist Party–Ruled Nation
---