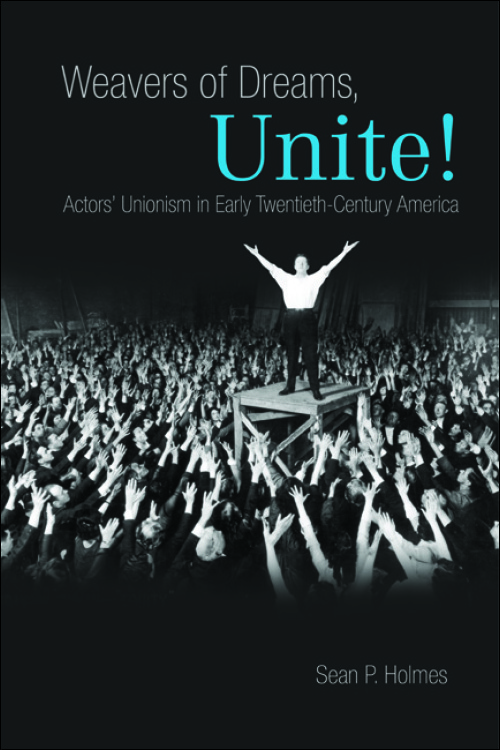 Weavers of Dreams, Unite!
Actors' Unionism in Early Twentieth-Century America
Stage actors as workers
Cloth – $62
978-0-252-03748-1
eBook – $19.95
978-0-252-09468-2
Publication Date
Cloth: 04/22/2013
About the Book
Published to coincide with the centenary of the founding of the Actors' Equity Association in 1913,
Weavers of Dreams, Unite!
explores the history of actors' unionism in the United States from the late nineteenth century to the onset of the Great Depression. Drawing upon hitherto untapped archival resources in New York and Los Angeles, Sean P. Holmes documents how American stage actors used trade unionism to construct for themselves an occupational identity that foregrounded both their artistry and their respectability. In the process, he paints a vivid picture of life on the theatrical shop floor in an era in which economic, cultural, and technological changes were transforming the nature of acting as work.
After tracing the origins of the organizational impulse that animated the American acting community in the early twentieth century, Holmes turns his attention to the formative years of the AEA and the hotly contested decision of actors' leaders to affiliate with the American Federation of Labor. He goes on to offer a compelling and strikingly original analysis of the actors' strike of 1919 that highlights how the men and women of the stage were able to use their commodity status to force their employers to terms. He also considers the long-term implications of the unionization of the theater, arguing that the AEA's peculiarly theatrical brand of occupational unionism was defined by a desire to regulate the behavior of stage performers both on and off the stage and to raise the status of the acting community by cleansing it of its long-standing reputation for immorality. He concludes with a detailed account of the AEA's abortive campaign to extend its jurisdiction to the Hollywood film industry, identifying it as a key moment in the process by which screen actors in the United States declared their independence from the traditions of the stage.
An engaging study that stands at a scholarly intersection where a number of disciplines converge, Weavers of Dreams, Unite! offers important insights into the nature of cultural production in the early twentieth century, the role of class in the construction of cultural hierarchy, and the special problems that unionization posed for workers in the commercial entertainment industry.
About the Author
Sean P. Holmes is deputy head of the School of Arts at Brunel University in London. He teaches in the Film and Television Studies program.
Reviews
"The book entertains as much as it educates. . . . a superlative read."--
Journal of American Studies
"By tracing the contentious relationship between theatre managers and actors in the early 1900s, examining the performative elements of the actors' strike in 1919, and investigating the failure of the AEA to claim a stake in Hollywood, Holmes plots an engaging historical analysis that offers thorough detail and compelling examples."--
Journal of American Culture
"Sean P. Holmes spins a lively, well-researched yarn about how actors decided to take matters into their own hands, giving birth to the union that survives today: Actors' Equity Association (AEA). . . . a clear and smart study."--
Labour/Le Travail
"With his attention to actors as both producers and embodiments of what they produce, the unique gender dynamics of theater as workplace, and the structure of the theater industry, Holmes has done a great job of writing the history of a union that challenges conventional labor history understandings of unionism and extends the scope of American theater history."--
Journal of American History
"Sean P. Holmes has given us a thoughtful, lively, clearly written, and cogently argued book about AEA's early years. . . . This admirable book begins to fill a vacuum in scholarship on the AEA and should inspire more work that accounts for what AEA meant--and means--to the American stage."--
Theatre Survey
"The stage has long been recognized as a site of consumption and of battles over the moral order. But Sean P. Holmes reminds us that it was also a workplace. . . . A substantial contribution to the historiography of the Progressive Era and the 1920s."--
H-Net Reviews
"A very rich study. . . . For labor educators and union organizers, Holmes' excellent book could be used to begin new conversations about how to connect creativity to labor action."--
Labor Studies Journal
"A superlative read."--
Journal of American Studies
---
Blurbs
"A compelling story that needs to be told. This history of unionization within the theatrical profession provides crucial insights into theater management and the industrialization of the entertainment industry."--Gillian M. Rodger, author of Champagne Charlie and Pretty Jemima: Variety Theater in the Nineteenth Century

"With active and engaging prose, this volume traces the history of the Actors' Equity Association from late-nineteenth century transformations in the theatrical industry. An excellent contribution to theater history, labor studies, American cultural studies, and gender studies."--Kathryn J. Oberdeck, author of The Evangelist and the Impresario: Religion, Entertainment, and Cultural Politics in America, 1884-1914
---