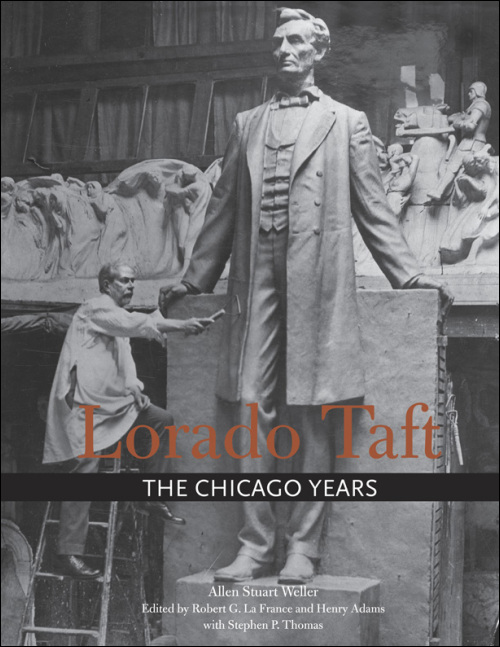 Lorado Taft
The Chicago Years
The story of the great sculptor's artistic zenith
Cloth – $39.95
978-0-252-03855-6
eBook – $14.95
978-0-252-09646-4
Publication Date
Cloth: 10/13/2014
About the Book
Sculptor Lorado Taft helped build Chicago's worldwide reputation as the epicenter of the City Beautiful Movement. In this new biography, art historian Allen Stuart Weller picks up where his earlier book
Lorado in Paris
left off, drawing on the sculptor's papers to generate a fascinating account of the most productive and influential years of Taft's long career.
Returning to Chicago from France, Taft established a bustling studio and began a twenty-one-year career as an instructor at the Art Institute, succeeded by three decades as head of the Midway Studios at the University of Chicago. This triumphant era included ephemeral sculpture for the 1893 World's Columbian Exposition; a prolific turn-of-the-century period marked by the gold-medal-winning The Solitude of the Soul; the 1913 Fountain of the Great Lakes; the 1929 Alma Mater at the University of Illinois; and large-scale projects such as his ambitious program for Chicago's Midway with the monumental Fountain of Time. In addition, the book charts Taft's mentoring of women artists, including the so-called White Rabbits at the World's Fair, many of whom went on to achieve artistic success.
Lavishly illustrated with color images of Taft's most celebrated works, Lorado Taft: The Chicago Years completes the first major study of a great American artist.
About the Author
Allen S. Weller was a professor of art history, dean of the College of Fine and Applied Arts, and director of Krannert Art Museum at the University of Illinois at Urbana-Champaign. He is the author of Lorado in Paris. Robert G. La France is director of the David Owsley Museum of Art at Ball State University in Muncie, Indiana, and author of Bachiacca:  Artist of the Medici Court. Henry Adams is a professor of American art at Case Western Reserve University and author of Dale Chihuly: Thirty Years in Glass, 1966–1996. Stephen P. Thomas is a Chicago historian.
Reviews
"The single most important and rewarding source on this American sculptor."--
Journal of Illinois History
"A thorough investigation into the life of sculptor Lorado Taft. . . . Adding ample data to the literature on American art, Weller's book seeks to secure a place for Taft in history and ensure that he does not fade into memory for a second time."--
Journal of the Illinois State Historical Society
---
Blurbs
"This book makes a valuable contribution to the literature on American sculpture. Enjoyable and stimulating reading." --Julie A. Aronson, Curator of American Painting, Sculpture, and Drawings, Cincinnati Art Museum
---