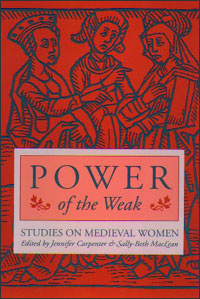 Power of the Weak
Studies on Medieval Women
Paper – $42
978-0-252-06504-0
Publication Date
Paperback: 01/01/1995
About the Book
Covering the eleventh through sixteenth centuries, these essays suggest that influence and power may have paradoxically been available to women despite, and sometimes precisely because of, their subordinate position in society. Striking for its range of scholarship, this collection explores the power and independence, relationships and influence of medieval queens, holy women, mothers, widows, Jewish conversas, and others. Latin and Anglo-Norman hagiography, confessors' manuals, coronation rituals, responsa literature, and legal theory are represented.
"An intriguing exploration of a basic paradox of medieval society, and an excellent blend of theory and gender studies with detailed work relevant for social and political history." -- Joel Rosenthal, author of Patriarchy and Families of Privilege in Fifteenth-Century England
JENNIFER CARPENTER is a lecturer in history at the University of Otago, Dunedin, New Zealand.
---