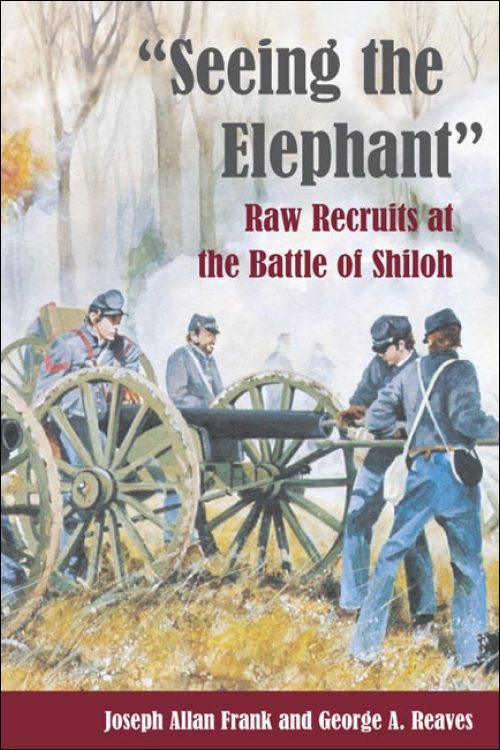 "Seeing the Elephant"
Raw Recruits at the Battle of Shiloh
Study of the impact of one of the bloodiest battles in the Civil War on the soldiers who fought in it.
Paper – $24.95
978-0-252-07126-3
eBook – $14.95
978-0-252-09804-8
Publication Date
Paperback: 01/01/2003
About the Book
One of the bloodiest battles in the Civil War, the two-day engagement near Shiloh, Tennessee, in April 1862 left more than 23,000 casualties. Fighting alongside seasoned veterans were more than 160 newly recruited regiments and other soldiers who had yet to encounter serious action. In the phrase of the time, these men came to Shiloh to "see the elephant."
Drawing on the letters, diaries, and other reminiscences of these raw recruits on both sides of the conflict, "Seeing the Elephant" gives a vivid and valuable primary account of the terrible struggle.
From the wide range of voices included in this volume emerges a nuanced picture of the psychology and motivations of the novice soldiers and the ways in which their attitudes toward the war were affected by their experiences at Shiloh.
About the Author
Joseph Allan Frank taught at the University of Ottawa until his retirement in 1999 and is now an adjunct faculty member teaching Civil War History in the Department of History, Political Science, and Law at Webster University in St. Louis. The late George A. Reaves (d. 1994) was chief of interpretation and resources management at Shiloh National Park.
Reviews
"Outstanding work. A significant study to those who believe there is still much to be learned about wars and the men who fight in them."--Civil War History

"The accounts of the young volunteers . . . take readers to the front and confront them with the horrors of Civil War combat."--American Historical Review

"This is an intriguing book which deserves a wide reading."--Civil War News
---