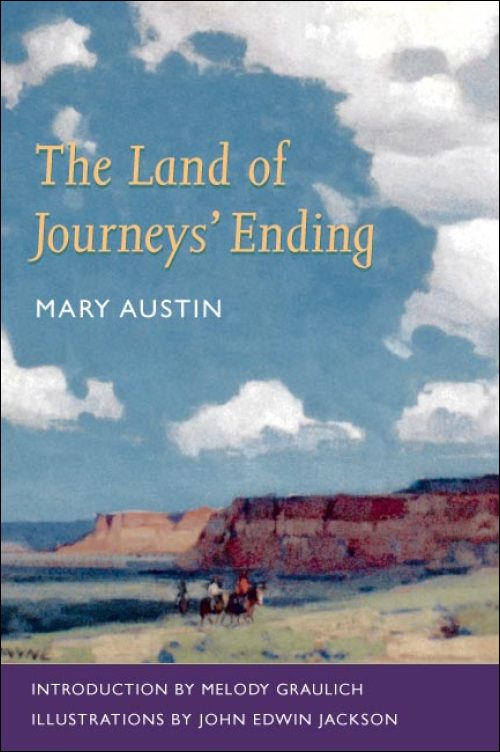 The Land of Journeys' Ending
Illustrations by John Edwin Jackson. Introduction by Melody Graulich
With its indigenous peoples, whose life patterns and art forms reflected a long intimacy with the land, its permeable borderlands, its multiple languages and traditions, its long and complicated history of encounters between diverse peoples, its unique landscape and ecology, the Southwest offered, in Austin's view, a model for the future.
Paper – $35
978-0-252-07162-1
Publication Date
Paperback: 01/01/2003
About the Book
When
The Land of Journeys' Ending
was first published in 1924,
The Literary Review
warned, "This book is treacherous, waiting to overwhelm you with its abundant poetry." In it, successful New York author Mary Austin describes the epic journey she undertook in 1923, when left her East Coast home at the age of fifty-five to travel through the southwestern United States, the area where she lived as a child and where she would later retire.
The journey the book describes is a double one. Austin describes her transition from the cosmopolitan North East to the arid and largely unfamiliar land between the Colorado River and the Rio Grande. In telling her own story, Austin also tells the story of those who journeyed there before her-–Native American tribes, Spanish conquistadores, miners, adventurers, and California-bound migrants. The result is both an homage to the magnificence of the desert, mountains, rivers, canyons, plants, and animals of the Southwest and a history of the waves of people who inhabited the region.
Part memoir, part travel narrative, part historical investigation, and part ecological study, The Land of Journeys' Ending is a moving account of a woman coming full circle, finding solace in the broad landscape of her youth.
Reviews
"Austin writes with a singular force and charm and with an intensity of conviction of their worth that is truly stimulating."–-The New York Times

"A memorable, life-increasing book."--International Book Review
---