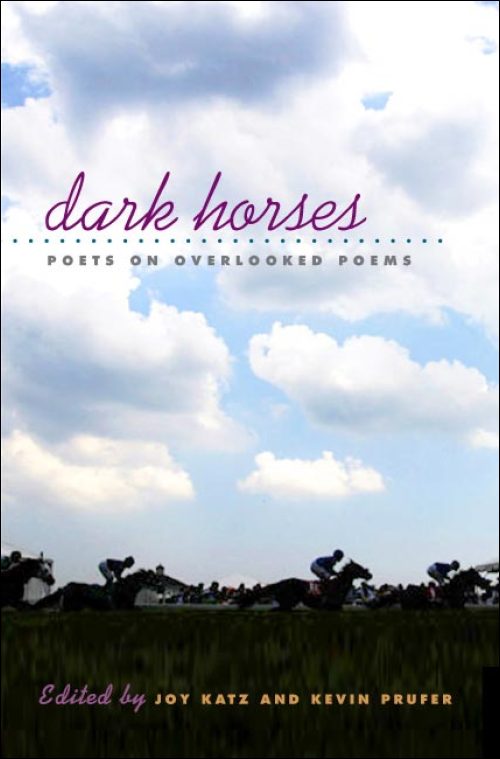 Dark Horses
Poets on Overlooked Poems
Poets discuss forgotten favorites
Paper – $20.95
978-0-252-07287-1
Publication Date
Paperback: 02/12/2007
About the Book
Too many amazing poems end up overlooked by the academy and excluded from the canon, remaining largely unknown to the poetry-reading public. Joy Katz and Kevin Prufer's
Dark Horses
joyfully rediscovers dozens of these poems, recognizes their power, and illuminates their significance.
Seventy-five established American poets including Billy Collins, John Ashbery, Linda Bierds, Carl Phillips, C. K. Williams, Wanda Coleman, Miller Williams, and Dana Gioia have each selected one unjustly neglected poem, most never previously anthologized, and written a concise commentary to accompany it. Selections include forgotten gems by well known poets as well as poems by writers who have fallen into obscurity. Dark Horses also acts as a primer on how to creatively read a poem and a documentary of the bonds between a poem and its reader.
About the Author
Joy Katz is the author of Fabulae, winner of the Crab Orchard Award in poetry. She held a Wallace Stegner fellowship in poetry, is a senior editor at Pleiades, and is a frequent contributor to Parnassus: Poetry in Review, Verse, Bomb, Fence, and Conduit. Kevin Prufer is the editor of The New Young American Poets, listed as one of the ten best poetry books of 2000 by Booklist, and of Pleiades: A Journal of New Writing. He is the author of The Finger Bone, a finalist for the 2002 Laughlin Award, the new Fallen From a Chariot, and other books.
Reviews
"Katz and Prufer claim to have simply set out to showcase forgotten works, but their anthology achieves a nobler outcome. It demonstrates that powerful poetry can be found anywhere."--Booklist

"In a culture that frequently overlooks poetry, this collection fights valiantly against the dying of the light."--Washington Post

"A lovingly performed excavation of poems that have eluded canonization. . . . Dark Horses serves a noble purpose in rounding up loose lost voices . . . giving them a chance to meet with readers once again."--Time Out Chicago

"As a testament to the bond between reader and poem, the anthology gives us the personal stories of many poets who took this project on as a way to reveal how they first came to love poetry."--Virginia Quarterly Review

"The poems chosen for this delightful collection are, almost without exception, little marvels that truly deserve to be rescued from oblivion. The accompanying mini-essays . . . offer valuable insights into poet and poem and could serve as a primer on poetics. . . . Highly recommended."--Choice
---