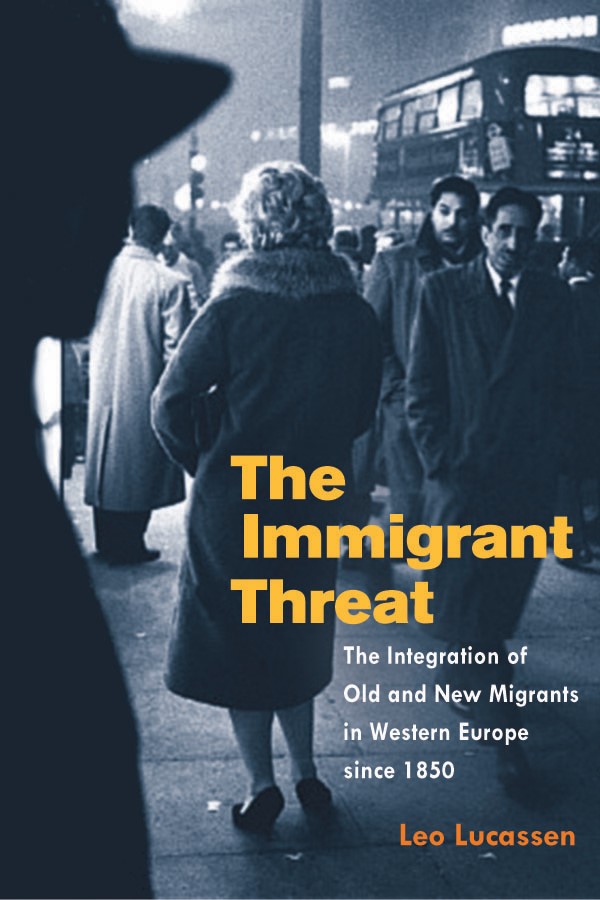 The Immigrant Threat
The Integration of Old and New Migrants in Western Europe since 1850
Linking the long-term integration experiences of migrants, past and present
Cloth – $110
978-0-252-03046-8
Paper – $28
978-0-252-07294-9
Publication Date
Paperback: 01/01/2005
Cloth: 01/01/2005
About the Book
Starting in the 1980s, anti-immigrant discourse shifted away from the "color" of immigrants to their religion and culture. It focused in particular on newcomers from Muslim countries—people feared both as terrorists and as products of tribal societies with values opposed to those of secular Western Europe.
Leo Lucassen tackles the question of whether the integration process of these recent immigrants will fundamentally differ in the long run (over multiple generations) from the experiences of similar immigrant groups in the past. For comparison, Lucassen focuses on "large and problematic groups" from Western Europe's past (the Irish in the United Kingdom, the Poles in Germany, and the Italians in France) and demonstrates a number of structural similarities in the way migrants and their descendants integrated into these nation states. Lucassen emphasizes that the geographic sources of the "threat" have changed and that contemporaries tend to overemphasize the threat of each successive wave of immigrants, in part because the successfully incorporated immigrants of the past have become invisible in national histories.
About the Author
Leo Lucassen is a professor of global labour and migration history and director of the International Institute of Social History at Leiden University. He is the coeditor of Migration and Membership Regimes in Global and Historical Perspective and The Encyclopedia of Migration and Minorities in Europe, from the Seventeenth Century to the Present.
Reviews
"The acid test of a scholarly book is whether we learn something new from reading it—a more stringent version, whether we learn something new about a subject we thought we already knew well. By that tougher standard, Leo Lucassen's new book, The Immigrant Threat, passes with distinction. . . . It rescues a nearly lost history, that of earlier immigrations to western European countries, such as the movement of Italians to France. . . . Lucassen is convincing that the comparison between past and present has produced a 'feast of recognition' of similarities between different eras, notwithstanding the obvious differences."--International Review of Social History

"By far the most persuasive and important message of the book is the general one that historians and social scientists should get together more and pool their resources. Certainly social science researchers examining recent and contemporary migrations have tended to overlook the past. On the one hand, the successful incorporation of immigrants in earlier migration epochs has become an invisible part of national histories and memories; on the other hand, the longer-term assumption (based especially on the U.S. experience) of successful assimilation hides many difficult phases of discrimination and ethnic identity survival."--International History Review

"Well-written and extremely well-researched. . . . Makes a significant contribution to current immigration debates and should be widely consulted."--Journal of Sociology and Social Welfare

"Important reading for U.S. as well as European audiences. Highly recommended."--Choice

"This book is an important addition to the literature on integration in Western Europe and draws on a balanced selection of key works that have contributed to an understanding of the impact migration processes have on both the host society and on the migrants themselves. . . . With a historian's eye for comparative detail that links the past and the present, Lucassen has written a book that shows how perceptions of migrants as problematic and threatening to the host nation are not a new phenomenon."--Patterns of Prejudice
---