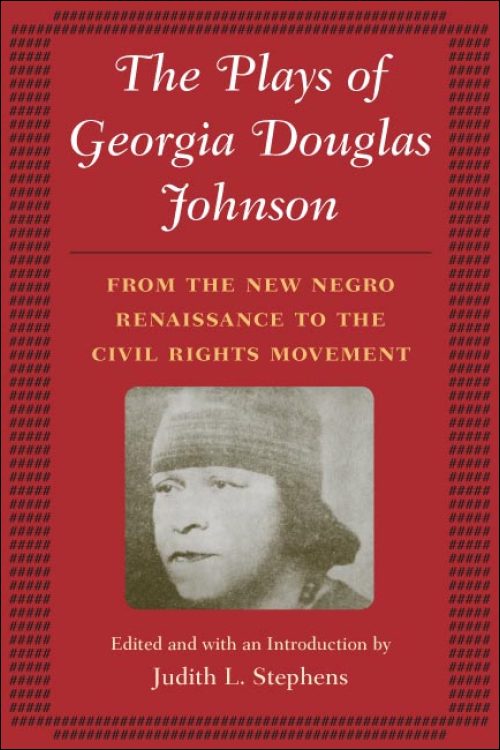 The Plays of Georgia Douglas Johnson
From the New Negro Renaissance to the Civil Rights Movement
Recovering the stage work of one of America's finest black female writers
Paper – $23
978-0-252-07333-5
Publication Date
Paperback: 01/01/2006
Cloth: 03/13/2006
About the Book
This volume collects twelve of Georgia Douglas Johnson's one-act plays, including two never-before-published scripts found in the Library of Congress. As an integral part of Washington, D.C.'s, thriving turn-of-the-century literary scene, Johnson hosted regular meetings with Harlem Renaissance writers and other artists, including Countee Cullen, Langston Hughes, May Miller, and Jean Toomer, and was herself considered among the finest writers of the time. Johnson also worked for U.S. government agencies and actively supported women's and minorities' rights.
As a leading authority on Johnson, Judith L. Stephens provides a brief overview of Johnson's career and significance as a playwright; sections on the creative environment in which she worked; her S Street Salon; "The Saturday Nighters," and its significance to the New Negro Theatre; selected photographs; and a discussion of Johnson's genres, themes, and artistic techniques.
About the Author
Judith Stephens is a professor of humanities and theater at the Pennsylvania State University, Schuylkill Campus. She is the coeditor of Strange Fruit: Plays on Lynching by American Women.
Reviews
---
Blurbs
"This thorough study and collection of Georgia Douglas Johnson's plays is handled with generosity, scholarship, and insight. It is exciting to see this important work come to fruition, and there is no one better equipped to have edited it than Judith Stephens."--David Krasner, associate professor of theater, African American studies, and English, Yale University

"Judith Stephens is the leading authority on Georgia Douglas Johnson, and with this new book she has rescued Johnson's important plays for posterity. I wish this book had been available while I was teaching African American theater history."--James V. Hatch, emeritus professor of theater, City University of New York

"Stephens does not glorify Georgia Douglas Johnson as an icon or turn her into a plastic saint; rather she paints an intricate portrait of an undaunted optimist who combined her varied and various interests to produce a spiritual body of work unrivaled in its prolificacy and persistence. This new book will become an invaluable complement to the work already done about this early century pioneer."--Glenda Dickerson, professor of theater and drama, University of Michigan, Ann Arbor
---