Gendering Labor History
The role of gender in the history of the working class
Paper – $28
978-0-252-07393-9
Publication Date
Paperback: 01/29/2007
About the Book
This collection represents the thirty-year intellectual trajectory of one of today's leading historians of gender and labor in the United States. The seventeen essays are divided into four sections, narrating the evolution and refinement of Alice Kessler-Harris's central project: showing gender's fundamental importance in the shaping of United States history and working class culture.
The first section considers women and organized labor while the second pushes this analysis toward a gendered labor history as the essays consider the gendering of male as well as female workers and how gender operates with and within the social category of class. Subsequent sections broaden this framework to examine U.S. social policy as a whole, the question of economic citizenship, and wage labor from a global perspective. While each essay represents an important intervention in American historiography in itself, the collection taken as a whole shows Kessler-Harris continuing to push the field of American history to greater levels of inclusion and analysis.
About the Author
Alice Kessler-Harris
is the R. Gordon Hoxie Professor Emerita of American History at Columbia University. Her books include
In Pursuit of Equity: How Gender Shaped American Economic Citizenship,
which won the Joan Kelly, Phillip Taft, and Bancroft prizes;
Out to Work: A History of Wage-Earning Women in the United States
; and
A Woman's Wage: Historical Meanings and Social Consequences
.
---
Also by this author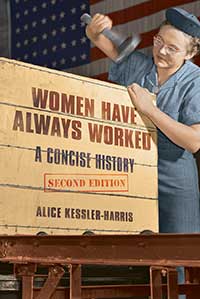 Reviews
"This feminist economic historian has long shown that 'maleness' is a prized commodity in the United States labor market and in unions. Now she demonstrates how globalization has disseminated Western ideals of workplace masculinity, disenfranchising women worldwide."--
Ms.
"Kessler-Harris . . . demonstrates why she is today widely recognized as a leading practitioner of women's labor history. . . . As she has from the 1970s onward, Kessler-Harris continues to pose the questions that will drive the field for decades. A valuable addition to labor and women's studies collections. Highly recommended."--
Choice
"
Gendering Labor History
is a remarkable collection of essays covering thirty years in the intellectual life of one of America's outstanding historians. Alice Kessler-Harris has assembled seventeen essays, from 1974 to 2004, that chronicle the evolution of her thinking about labor history and women's history. . . . Each essay was important at the time of publication and now, together, provides a fascinating review of two disciplines that she brings together in a call for a 'gendered labor history.'"--
Journal of Women, Politics and Policy
"Over her 30-year career as a labor historian, Alice Kessler-Harris has established herself as one of the foremost authorities on the history of women and work in the United States. . . . Kessler-Harris provides an excellent starting point for those interested in understanding the contribution of women to the American labor movement and workforce."--
Labor Studies Journal
"Offers students and interested observers a wonderfully wide lens for viewing the development of two intersecting fields of American history during the past four decades."--
Michigan Historical Review
"Stunning collection . . . .
Gendering Labor History
exhibits both truth and beauty, as it makes its case for a labour history which treats gender as no more natural, that is, historically immutable, than this reconstituted Welsh countryside."--
History Workshop Journal
---
Blurbs
"This collection is a real gem. It is a tribute both to Alice Kessler-Harris's brilliance and to the strides made by gendered history."--Ileen A. DeVault, professor of labor history, Cornell University

"Alice Kessler-Harris is one of the most influential historians of our time, and these essays remind us of why this is the case. Rather than arguing for the study of women's labor history, she argues for the decisive importance of gender in the history of working people. But what makes Gendering Labor History more than just a collection of fine and often well-known essays is the constant expansion of her thinking--from the early writings on garment workers and their unions to the global perspective of the final essays. This book stands as a creative work in its own right."--David Montgomery, author of The Fall of the House of Labor: The Workplace, the State, and American Activism
---