Foot Soldiers for Democracy
The Men, Women, and Children of the Birmingham Civil Rights Movement
Introductions by Robin D. G. Kelley and Rose Freeman Massey
Firsthand accounts from the Civil Rights Movement's frontlines
Paper – $27
978-0-252-07668-8
Publication Date
Paperback: 01/01/2009
Cloth: 11/23/2009
About the Book
Drawn from the rich archives of the Birmingham Civil Rights Institute, this collection brings together twenty-nine oral histories from people of varying ages and occupations who participated in civil rights activism at the grassroots level. These highly personal narratives convey the real sense of fear and the risk of bodily danger people had to overcome in order to become the movement's foot soldiers. The stories offer testimony as to how policing was carried out when there were no cameras, how economic terrorism was used against activists, how experiences of the movement differed depending on gender, and how youth participation was fundamental to the cause. Participants in the struggle ranged from teachers, students of all ages, and domestic workers to elderly women and men, war veterans, and a Black Panther leader. This volume demonstrates the complexity and diversity of the spirit of resistance at a formative moment in American history.
About the Author
Horace Huntley
is an assistant professor of history at the University of Alabama, Birmingham, the director of the Oral History Project at the Birmingham Civil Rights Institute, and the coeditor of
Black Workers' Struggle for Equality in Birmingham.
John W. McKerley
is a faculty research associate and assistant editor with the Freedmen and Southern Society Project at the University of Maryland, College Park.
---
Also by this author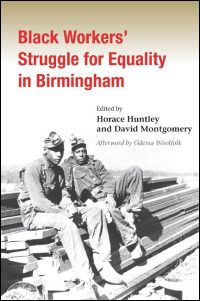 Reviews
"This volume contains a remarkable cross section of firsthand accounts that will interest scholars of the black freedom struggle, especially those attuned to bottom-up views of black history and generational change."--
The Journal of Southern History
"An excellent text for those seeking a work that offers something besides the standard narrative."--
Southern Historian
---
Blurbs
"This outstanding work is an enormous contribution to the literature on the civil rights movement, and it will provide rich material for debate as well as inspiration for years to come."--Paul Ortiz, author of Emancipation Betrayed: The Hidden History of Black Organizing and White Violence in Florida from Reconstruction to the Bloody Election of 1920
---