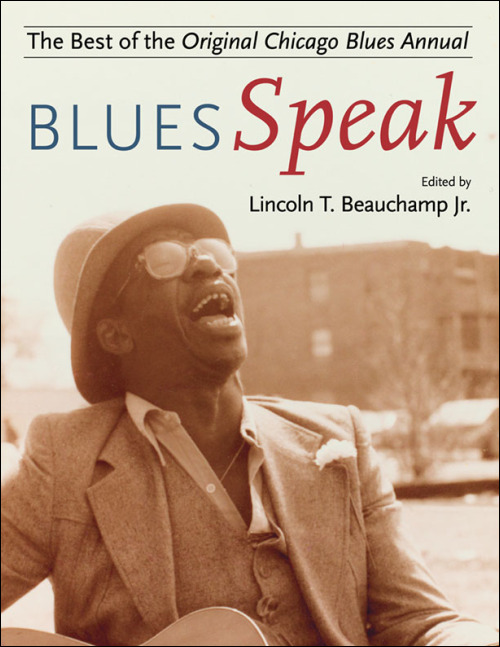 BluesSpeak
The Best of the Original Chicago Blues Annual
Greatest hits from Chicago's essential guide to the global blues scene
Cloth – $110
978-0-252-03440-4
Paper – $24.95
978-0-252-07692-3
Publication Date
Paperback: 03/08/2010
Cloth: 03/08/2010
About the Book
This incomparable anthology collects articles, interviews, fiction, and poetry from the
Original Chicago Blues Annual,
one of music history's most significant periodical blues publications. Founded and operated from 1989 to 1995 by African American musician and entrepreneur Lincoln T. Beauchamp Jr.,
OCBA
gave voice to the blues community and often frankly addressed contentious issues within the blues such as race, identity, prejudice, wealth, gender, and inequity.
OCBA often expressed an explicitly black perspective, but its contributors were a mix of black and white, American and international. Likewise, although OCBA's roots and main focus were in Chicago, Beauchamp's vision for the publication (and his own activities as a blues performer and promoter) embraced an international dimension, reflecting a broad diversity of blues audiences and activities in locations as farflung as Iceland, Poland, France, Italy, and South Africa.
BluesSpeak includes key selections from OCBA's seven issues and features candid interviews with Koko Taylor, Eddie Boyd, Famoudou Don Moye, Big Daddy Kinsey, Lester Bowie, Junior Wells, Billy Boy Arnold, Herb Kent, Barry Dolins, and many more. The volume collects work from literary artists such as Eugene B. Redmond, Quincy Troupe, Kalamu Ya Salaam, Julie Parson Nesbitt, and Hart Leroy Bibbs. Also featured are heartfelt memorials to bygone blues artists, insightful observations on the state of the blues in Chicago and beyond, and dozens of photographs of performers, promoters, and other participants in the worldwide blues scene.
About the Author
Lincoln T. Beauchamp Jr. is a Chicago-based musician, writer, publisher, record producer and promoter. Muddy Waters gave him the name "Chicago Beau," and he has recorded and performed with some of the most respected names in music, including Memphis Slim, Archie Shepp, Pinetop Perkins, Fontella Bass, the Art Ensemble of Chicago, the African choir Amakhono We Sinto, and Frank Zappa.
Reviews
"An invaluable resource for the blues historian, and an entertaining read for the Chicago blues fan."--
About.com:Blues
"Evoke[s] a raw and vivid portrait of the blues, its history and practitioners."--
AllAboutJazz
---
Blurbs
"This collection strikes an excellent balance between interview, blues reportage, and literary work and will be of interest to blues fans, scholars of black literature, and anyone interested in community arts."--Barry Lee Pearson, coauthor of Robert Johnson: Lost and Found
---