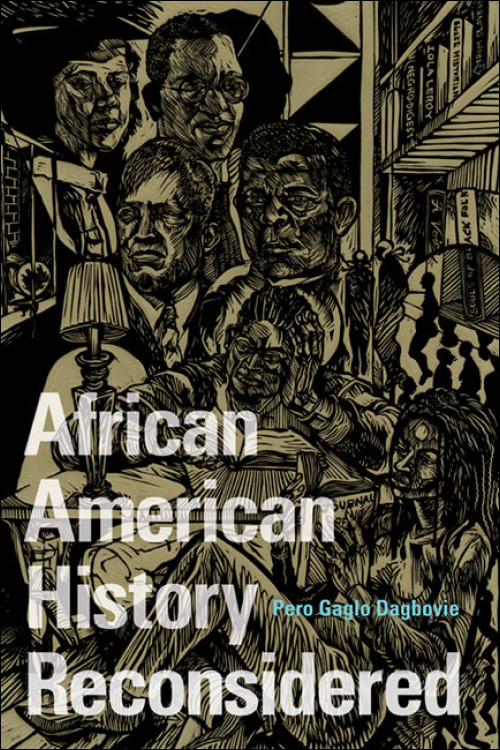 African American History Reconsidered
New perspectives on black history and its profession
Paper – $27
978-0-252-07701-2
Publication Date
Paperback: 05/10/2010
Cloth: 05/10/2010
About the Book
This groundbreaking volume establishes new perspectives on black history--its scholarship and pedagogy, scholars and interpreters, and evolution as a profession.
Pero Gaglo Dagbovie discusses a wide range of issues and themes for understanding and analyzing African American history, the twentieth century black historical enterprise, and the teaching of African American history for the twenty-first century. Additional topics include the hip-hop generation's relationship to and interpretations of African American history; past, present, and future approaches to the subject; and the social construct of knowledge in African American historiography. An examination of definitions of black history from W. E. B. Du Bois's The Souls of Black Folk and a survey of early black women historians lend further dimension and authenticity to the volume. A bold contribution to the growing fields of African American historiography and the philosophy of black history, African American History Reconsidered offers numerous analytical frameworks for understanding and delving into a variety of dimensions of the African American historical experience.
Reviews
"As is the case with nearly all comprehensive historiographies, the author must digest and then summarize for his readers a tremendous amount of scholarship, past and present. Dagbovie succeeds remarkably well in that endeavor. . . . An especially important work for advanced graduate student of US and African American history. Recommended."--
Choice
"This thoughtful, provocative book sparkles with insight into the development of African American history as a field of scholarly inquiry. It sets out an ambitious array of themes that sorely need reexamination forty years after the rise of African American history as a distinct area of scholarship. Pero Gaglo Dagbovie probes the definition and meaning of African American history; the rise of scholarship on black women; new and innovative ways to teach the subject; historiography, epistemology, and the social construction of knowledge; and most controversial, the use of the concept of genocide to frame and understand the African American past."--
The Journal of American History
"A refreshing historiographical work."--
The Journal of Southern History
"
African American History Reconsidered
calls upon scholars to reopen the important work of theorizing black history, historiography, and historical thought. This book is a welcome contribution toward that initiative, an imperative at this seemingly (a)historical moment."--
Journal of American Ethnic History
---
Blurbs
"Pero Gaglo Dagbovie's incisive and timely book compels a new generation to come to terms with African American history. Beautifully crafted, illuminating and passionate, African American History Reconsidered reminds us that politically engaged critical analysis has long been at the heart of the black historian's craft."--Robin D. G. Kelley, author of Thelonious Monk: The Life and Times of an American Original

"African American History Reconsidered will spark debate on the issues that contemporary historians must address to foster continuing advancement of the field. This book could define the contours of African American history for the foreseeable future."--James B. Stewart, author of African Americans and the U.S. Economy

"A superb study: the first major treatise on African American historiography in the past two decades. Dagbovie's work fills a gap in historiography and contributes immensely to historical studies."--Derrick P. Alridge, author of The Educational Thought of W. E. B. Du Bois: An Intellectual History
---