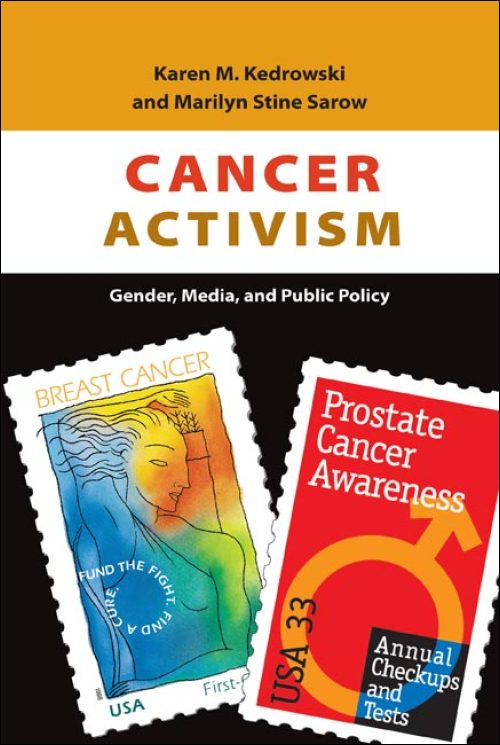 Cancer Activism
Gender, Media, and Public Policy
The first comparison of the breast cancer and prostate cancer movements
Paper – $27
978-0-252-07777-7
Publication Date: Cloth: 2007; Paper: 2010
About the Book
Cancer Activism explores the interplay between advocacy, the media, and public perception through an analysis of breast cancer and prostate cancer activist groups over a nearly twenty-year period. Despite both diseases having nearly identical mortality and morbidity rates, Karen M. Kedrowski and Marilyn Stine Sarow present evidence from more than 4,200 news articles to show that the different groups have had markedly different impacts. They trace the rise of each movement from its beginning and explore how discussions about the diseases appeared on media, public, and government agendas. In an important exception to the feminist tenet that women as a group hold less power than men, Kedrowski and Sarow demonstrate that the breast cancer movement is not only larger and better organized than the prostate cancer movement, it is also far more successful at shaping media coverage, public opinion, and government policy.
About the Author
Karen M. Kedrowski is professor and chair of the Department of Political Science at Winthrop University in Rock Hill, South Carolina, the author of Media Entrepreneurs and the Media Enterprise in the U.S. Congress, and the coauthor of Breastfeeding Rights in the United States. Marilyn Stine Sarow is a professor of mass communication and assistant to the Vice President for Academic Affairs at Winthrop University, and coauthor of Integrated Business Communication in a Global Marketplace.
Reviews
"
Cancer Activism
is a well-written and engrossing account of how a determined group of grassroots leaders--many of them feminists--have changed the face of medical research."--
New Scientist
"
Cancer Activism
highlights a cynical race for attention and money, one the authors lament affects many other disease movements."--Katherine Nightingale,
Lancet
"Recommended."--
Choice
"This unique text serves as an excellent foundation for enhancing cancer awareness, creating and sustaining effective coalitions, facilitating proactive advocacy, enhancing medical communication, stimulating medical research and funding, and shaping public policy."--
Oncology Nursing Forum
---
Blurbs
"Cancer Activism analyzes relationships among activism, media advocacy, media content, and funding for breast cancer and prostate cancer. A must-read for anyone studying the interplay of health communication, medicine, media advocacy, and government policy, this book promises to be one of the most important reads in health communication and will be cited for years to come."--August E. Grant, author of Communication Technology Update

"A timely and compelling study of people organizing to enhance health and longevity through grassroots activism, effective coalitions, and assertive advocacy."--Laura R. Woliver, author of The Political Geographies of Pregnancy and From Outrage to Action: The Politics of Grass-roots Dissent
---