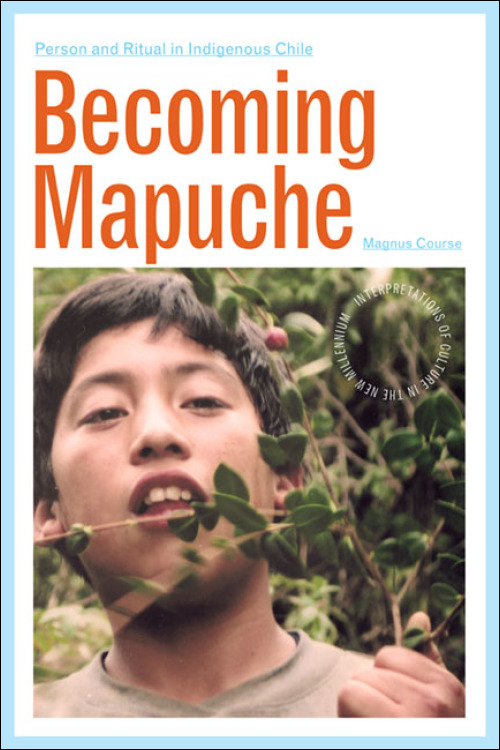 Becoming Mapuche
Person and Ritual in Indigenous Chile
A nuanced exploration of one of the largest and least understood indigenous peoples
Paper – $27
978-0-252-07823-1
eBook – $19.95
978-0-252-09350-0
Publication Date
Paperback: 12/26/2011
Cloth: 12/26/2011
About the Book
Magnus Course blends convincing historical analysis with sophisticated contemporary theory in this superb ethnography of the Mapuche people of southern Chile. Based on many years of ethnographic fieldwork,
Becoming Mapuche
takes readers to the indigenous reserves where many Mapuche have been forced to live since the beginning of the twentieth century. Exploring their way of life, the book situates the Mapuche within broader anthropological debates about indigenous peoples in South America.
Comprising around 10 percent of the Chilean population, the Mapuche are one of the largest indigenous groups in the Americas. Despite increasing social and political marginalization, the Mapuche remain a distinct presence within Chilean society, giving rise to the burgeoning Mapuche political movement and holding on to their traditional language of Mapundungun, their religion, and their theory of self-creation. In addition to accounts of the intimacies of everyday kinship and friendship, Course also offers the first complete ethnographic analyses of the major social events of contemporary rural Mapuche life--eluwün funerals, the ritual sport of palin, and the great ngillatun fertility ritual. The volume includes a glossary of terms in Mapudungun.
About the Author
Magnus Course is a lecturer in social anthropology at the University of Edinburgh.
Reviews
"Interesting, important, and challenging."--
Anthropology Review Database
"Well suited for both undergraduate introductory and area courses, and Course's individualist approach has the potential to generate much discussion about comparisons between the Mapuche and Western societies. . . . Well researched, well written and organized, and offers a unique and persuasive approach to the Mapuche that would be useful for other indigenous groups as well."--
American Ethnologist
"A rich ethnographic account that deals with a question that has become central to studies of Amerindian groups; what does it mean to be a 'real' person? A strong contribution to the literature dealing with the complexities of identity politics and the politics of identity in Latin America."--
Journal of the Royal Anthropological Institute
---
Blurbs
"In Becoming Mapuche, Magnus Course asks a question at once anthropological and Mapuche: what does it mean to be a 'true person'? On a theoretical level, this question allows the author to skillfully traverse back and forth across the abandoned terrain between the categories of classical modernist anthropology and those of its postmodern critique. In choosing this analytical strategy, the author has produced a remarkably rich ethnography of a rural Mapuche community, one that touches on the themes of both phases of anthropological thought in a rich synthesis of themes. Further, in finding this systhesis, Course has surely begun to fulfill his own hope expressed herein, that of freeing Mapuche ethnography from its sub-disciplinary isolation and showing the way to comparisons with Andean and Amazonian societies and far beyond."--Peter Gow, author of An Amazonian Myth and Its History

"Becoming Mapuche makes significant contributions to South American ethnology by providing ethnographically based explorations of Mapuche concepts. Magnus Course also greatly contributes to more general theoretical concerns in anthropology such as social personhood, theories of exchange, and kinship studies. Written in a clear style, the book is both accessible to general readers and stimulating for anthropologists."--Jonathan D. Hill, author of Made-from-Bone: Trickster Myths, Music, and History from the Amazon

"An insightful ethnographic account of the way the rural Mapuche person is constituted through different modes of men's sociality and how the centrifugal expansion of relations across time and space gives rise to collective social events. Course presents the stunning new political possibilities that emerge from a rural Mapuche class-based identity that challenges the ethnic perspectives held by urban Mapuche intellectuals and indigenous rights activists."--Ana Mariella Bacigalupo, author of Shamans of the Foye Tree: Gender, Power, and Healing among Chilean Mapuche
---