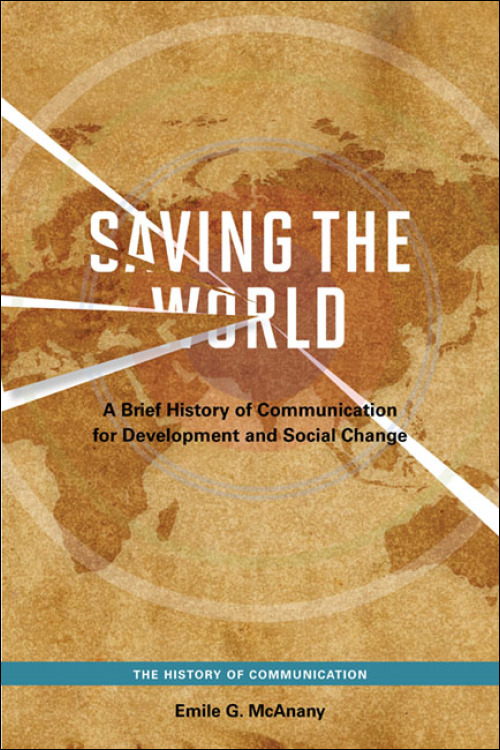 Saving the World
A Brief History of Communication for Development and Social Change
Invigorating global social change through communication
Cloth – $110
978-0-252-03677-4
Paper – $27
978-0-252-07844-6
eBook – $19.95
978-0-252-09387-6
Publication Date
Paperback: 04/23/2012
Cloth: 04/23/2012
About the Book
This far-reaching and long overdue chronicle of communication for development from a leading scholar in the field presents in-depth policy analyses to outline a vision for how communication technologies can impact social change and improve human lives. Drawing on the pioneering works of Daniel Lerner, Everett Rogers, and Wilbur Schramm as well as his own personal experiences in the field, Emile G. McAnany builds a new, historically cognizant paradigm for the future that supplements technology with social entrepreneurship.
McAnany summarizes the history of the field of communication for development and social change from Truman's Marshall Plan for the Third World to the United Nations' Millennium Development Goals. Part history and part policy analysis, Saving the World argues that the communication field can renew its role in development by recognizing large aid-giving institutions have a difficult time promoting genuine transformation. McAnany suggests an agenda for improving and strengthening the work of academics, policy makers, development funders, and any others who use communication in all of its forms to foster social change.
About the Author
Emile G. McAnany is the former Walter E. Schmidt, S.J., Professor of Communication at Santa Clara University and the author of several books, including Mass Media and Free Trade: NAFTA and the Cultural Industries.
Reviews
"
Saving the World
provides a strong history for understanding the context of efforts to use communication to spur development. McAnany's continuing push for measures that will demonstrate success or failure is welcome. This volume will be most valuable to those seeking historical context as they delve into the role of information and communication technologies for development."--
International Journal of Communication
"A book that is both history and a manifesto for the future."--
American Journalism
"Presents in-depth policy analyses to outline a vision for how communication technologies have--and still can--impact social change and economic/cultural development. . . . McAnany builds an historical paradigm that melds technology with social entrepreneurship. "--
Communication Booknotes Quarterly
"
Saving the World
is a fascinating examination of how earlier technologies were applied to foster social change. An easy-to-read, well-organized document; while McAnany carefully relays theory, he does it in a concise way that anyone will find accessible."--
Technical Communication
"All students who are just beginning will find this book an excellent introduction not only to the ideas and theories but also to the key thinkers who have helped frame the debate over the last 30 or 40 years. . . . Knowing the people and their histories gives an invaluable background to our knowledge."--
Communication Research Trends
---
Blurbs
"Saving the World offers a judicious integration of Emile G. McAnany's own first-hand experience with many of the seminal people and projects in communication for development. McAnany provides a very valuable understanding of the underlying structure of the field and how these ideas have been implemented and theorized."--Joseph Straubhaar, author of Media Now: Understanding Media, Culture, and Technology

"A comprehensive, ambitious history and policy analysis of the field of development communication. McAnany's grasp of the major developments, issues, and advances of this field will appeal to scholars of communication, sociology, political science, and economics."--Robert Huesca, professor of communication, Trinity University
---