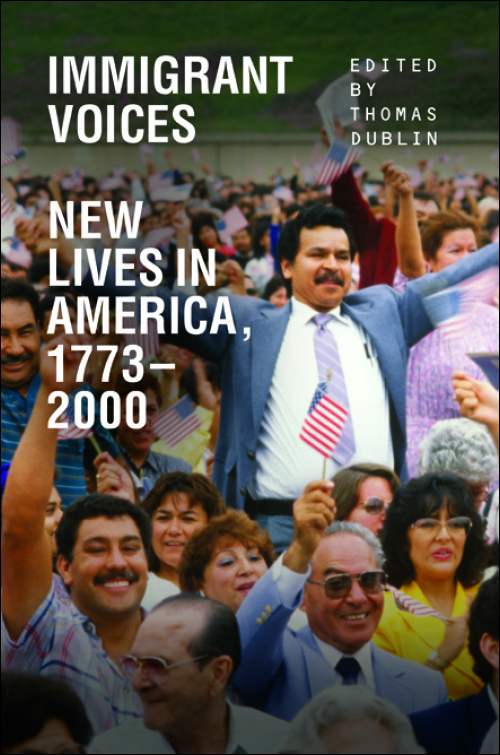 Immigrant Voices
New Lives in America, 1773-2000Second Edition
A new edition of the classic collection of writings by immigrants to the U.S.
Cloth – $125
978-0-252-03839-6
Paper – $30
978-0-252-07872-9
eBook – $19.95
978-0-252-09435-4
Publication Date
Cloth: 04/21/2014
About the Book
A classroom staple, Immigrant Voices: New Lives in America, 1773-2000 has been updated with writings that reflect trends in immigration to the United States through the turn of the twenty-first century. New chapters include a selection of letters from Irish immigrants fleeing the famine of the 1840s, writings from an immigrant who escaped civil war in Liberia during the 1980s, and letters that crossed the U.S.-Mexico border during the late 1980s and early '90s. Contextualizing and annotating each entry, editor Thomas Dublin underscores the diversity of immigrant backgrounds as well as the commonalities of the U.S. immigrant experience across lines of gender, nation of origin, race, and even time.
About the Author
Thomas Dublin is Bartle Distinguished Professor of history at the State University of New York at Binghamton and codirector of the Center for the Historical Study of Women and Gender. He is coeditor of the websites Women and Social Movements in the United States and Women and Social Movements, International.
Reviews
Praise for the first edition:"Clearly aimed at the undergraduate student and the general reader, Immigrant Voices provides immigrant accounts of their experiences. . . . The selections, which vary in form from letters, to memoirs, to diary entries, to oral histories, illustrate both the push factors of native lands as well as the pull factors of the United States. A reader vicariously feels the emotional cost of leaving home, the trials of steerage passage, the draw of American jobs and freedom, the sting of nativism, the clash between vision and reality, in short, the immigrant experience."--Labor Studies Journal

"This volume will continue to provide students of American immigration with a rich repository of testimonies that reflect both of the commonalities among immigrant experiences, and the particularities produced by differences of race, class, gender, legal status, and historical context."--Journal of American Ethnic History
---