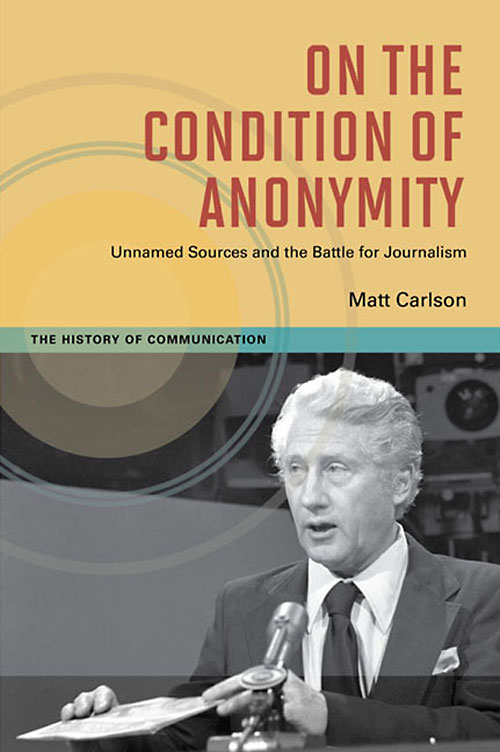 On the Condition of Anonymity
Unnamed Sources and the Battle for Journalism
The use of confidential sources during a tumultuous period in American history and journalism
Paper – $27
978-0-252-07885-9
eBook – $19.95
978-0-252-09318-0
Publication Date
Paperback: 08/13/2012
About the Book
Matt Carlson confronts the promise and perils of unnamed sources in this exhaustive analysis of controversial episodes in American journalism during the George W. Bush administration, from prewar reporting mistakes at the
New York Times
and
Washington Post
to the Valerie Plame leak case and Dan Rather's lawsuit against CBS News.
Weaving a narrative thread that stretches from the uncritical post-9/11 era to the spectacle of the Scooter Libby trial, Carlson examines a tense period in American history through the lens of journalism. Revealing new insights about high-profile cases involving confidential sources, he highlights contextual and structural features of the era, including pressure from the right, scrutiny from new media and citizen journalists, and the struggles of traditional media to survive amid increased competition and decreased resources.
In exploring the recent debates among journalists and critics over the appropriate roles of media, Carlson underscores the potential for unattributed information to be both an effective tool in uncovering necessary information about vital institutions and a means for embroiling journalists in controversy and damaging the credibility of already struggling news outlets. A timely cultural analysis, On the Condition of Anonymity maps the varying perspectives on confidential sources to foster a deeper understanding of moments of crisis, anxiety, transformation, and power in American history and American journalism.
About the Author
Matt Carlson is an assistant professor of communication at Saint Louis University.
Reviews
"Carlson's book is a must-read for people trying to understand what direction journalism should take in redefining itself in the face of rising threats--technological, economic, political, and otherwise."--
Journalism and Mass Communication Quarterly
"Raises important issues related to sources and to the structural forces currently challenging the meaning of journalism in today's multimedia world."--
Library Journal
"Carlson offers sensible prescriptions for less reliance on anonymous sources and for more transparency when they are relied upon by journalists. His book injects calm reason and scholarly rigor into a debate that often arouses passions."--
St. Louis Post-Dispatch
"Contributes significantly to understanding not only the use of anonymous sources (the benefits and the dangers) but also journalism broadly. Recommended."--
Choice
"Carlson offers an interesting, well-written, and lucid cultural analysis of the 'unique risks and rewards' that occur 'from the bargain struck' between reporters and confidential sources."--
Journalism
---
Blurbs
"How does anonymity change the relationship between journalists, sources, and the public? Matt Carlson's important new book tackles this question head-on, arguing, through a close and incisive analysis of the ramifications of using unnamed sources, for a fundamental reordering of the concept of anonymity and the news."--Barbie Zelizer, author of About To Die: How News Images Move the Public

"Matt Carlson addresses an interesting issue in journalism: the use of confidential sources in several recent episodes. He has scoured the public record for what is known about the cases and for the public discussion generated by them. This book serves an important purpose by aggregating and putting in one place these recent cases."--Elliott King, author of Free for All: The Internet's Transformation of Journalism
---