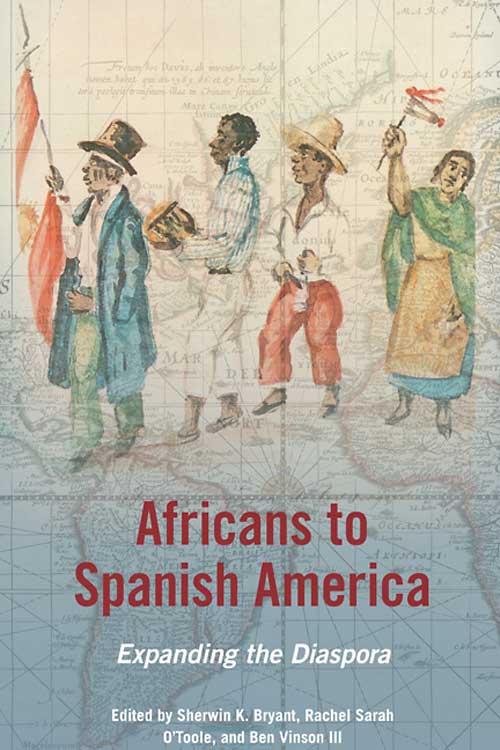 Africans to Spanish America
Expanding the Diaspora
Expanding and enriching African Diaspora history in the Americas
Cloth – $110
978-0-252-03663-7
Paper – $30
978-0-252-08001-2
eBook – $19.95
978-0-252-09371-5
Publication Date
Paperback: 01/27/2014
About the Book
Africans to Spanish America
expands the Diaspora framework that has shaped much of the recent scholarship on Africans in the Americas to include Mexico, Peru, Ecuador, and Cuba, exploring the connections and disjunctures between colonial Latin America and the African Diaspora in the Spanish empires. While a majority of the research on the colonial Diaspora focuses on the Caribbean and Brazil, analysis of the regions of Mexico and the Andes opens up new questions of community formation that incorporated Spanish legal strategies in secular and ecclesiastical institutions as well as articulations of multiple African identities. Editors Sherwin K. Bryant, Rachel Sarah O'Toole, and Ben Vinson III arrange the volume around three themes: identity construction in the Americas; the struggle by enslaved and free people to present themselves as civilized, Christian, and resistant to slavery; and issues of cultural exclusion and inclusion. Across these broad themes, contributors offer probing and detailed studies of the place and roles of people of African descent in the complex realities of colonial Spanish America.
Contributors are Joan C. Bristol, Nancy E. van Deusen, Leo J. Garofalo, Herbert S. Klein, Charles Beatty-Medina, Karen Y. Morrison, Rachel Sarah O'Toole, Frank "Trey" Proctor III, and Michele Reid-Vazquez.
About the Author
Sherwin K. Bryant is an assistant professor of African American studies and history at Northwestern University. Rachel Sarah O'Toole is an associate professor of history at the University of California, Irvine, and the author of Bound Lives: Africans, Indians, and the Making of Race in Colonial Peru.Ben Vinson III is Herbert Baxter Adams Professor of Latin American History at Johns Hopkins University.
Reviews
"Expands the spatial and chronological contours of the African diaspora. A rich anthology comprised of short, clearly argued, and jargon-free essays."--
Hispanic American Historical Review
"
Africans to Spanish America
is both useful and provocative, with chapters drawing on a range of methodological approaches to explore the complexities and nuances of racial identity in diverse Spanish American societies."--
Latin American Studies
"Aside from "expanding" diasporic history geographically,
Africans to Spanish America
also reminds us that between the fifteenth and nineteenth centuries the experiences of people of African descent in Spanish America were more varied than the paradigmatic plantation-centered historiography of the Caribbean and Brazil has implied.--
New West Indian Guide
"Deeply researched work. The essays pay due attention to the religious and political institutions that enabled Spanish colonial rule but show how African-descended subjects--in a departure from third-wave scholarship--identified with those institutions more often than they resisted them."--
American Historical Review
"The authors add valuable knowledge to the literature on slavery and colonialism in the Americas as they shift attention to the earliest phases of European imperialism in the sixteenth and seventeenth centuries and to locations throughout the hemisphere. . . . An empirically rich work that contributes valuable knowledge to a fast-growing field of research."--
International Migration Review
---
Blurbs
"A truly significant contribution to the field of the African Diaspora in colonial Spanish America in the era of slavery and slave society. The volume's most striking feature is the depth of inquiry into various features of Spanish American slave society and their impact on the lives of people of African descent and on the character of the colonial societies and imperial policy."--David Barry Gaspar, coeditor of Beyond Bondage: Free Women of Color in the Americas

"A pioneering effort to write the history of Africans in colonial Spanish America using the African Diaspora paradigm. The authors fully demonstrate the considerable potential of this approach."--Kris Lane, author of The Colour of Paradise: The Emerald in the Age of Gunpowder Empires
---