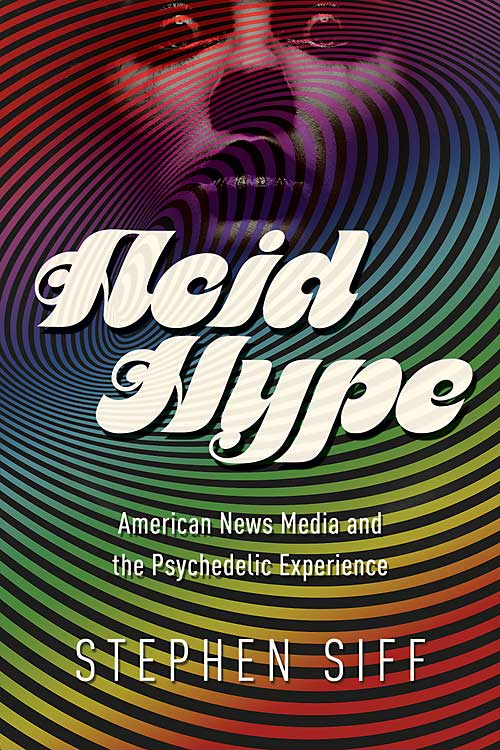 Acid Hype
American News Media and the Psychedelic Experience
LSD's trip from multi-colored miracle to mind-melting menace
Cloth – $110
978-0-252-03919-5
Paper – $28
978-0-252-08076-0
eBook – $19.95
978-0-252-09723-2
Publication Date
Cloth: 06/01/2015
About the Book
Now synonymous with Sixties counterculture, LSD actually entered the American consciousness via the mainstream.
Time
and
Life
, messengers of lumpen-American respectability, trumpeted its grand arrival in a postwar landscape scoured of alluring descriptions of drug use while lesser outlets piggybacked on their coverage with stories by turns sensationalized and glowing.
Acid Hype offers the untold tale of LSD's wild journey from Brylcreem and Ivory soap to incense and peppermints. As Stephen Siff shows, the early attention lavished on the drug by the news media glorified its use in treatments for mental illness but also its status as a mystical--yet legitimate--gateway to exploring the unconscious mind. Siff's history takes readers to the center of how popular media hyped psychedelic drugs in a constantly shifting legal and social environment, producing an intricate relationship between drugs and media experience that came to define contemporary pop culture. It also traces how the breathless coverage of LSD gave way to a textbook moral panic, transforming yesterday's refined seeker of truths into an acid casualty splayed out beyond the fringe of polite society.
About the Author
Stephen Siff is an assistant professor of journalism at Miami University, Ohio.
Reviews
"Siff provides two parallel narratives about LSD. The first focuses on the history of LSD, its popularity beginning in the mid-1950s and its fall from grace a decade later; the second concerns the way in which media attention to LSD changed journalistic methods. Recommended."--
Choice
"Stephen Siff. . . is never less than shrewd and readable in his assessment of how various news media differed in method and attitude when covering the psychedelic beat."--
Inside Higher Ed
"
Acid Hype
is a conscientiously researched, thoughtfully conceptualized, and clearly written account of the media's significant role in manufacturing the LSD craze in America in the late 1960s."--
H-Net Reviews
"A well-researched work of narrative history."--
Journal of American History
---
Blurbs
"This examination of the media's heightened interest in LSD in the 1950s and 1960s is an important book. Painstakingly researched, it provides a highly interesting trip through an era where it seemed all Americans were aware of the drug and many were taking it. This study unquestionably will be cited extensively by historians."--Patrick S. Washburn, Professor Emeritus, E.W. Scripps School of Journalism, Ohio University

"Stimulating and enjoyable."--Matthew C. Ehrlich, author of Radio Utopia: Postwar Audio Documentary in the Public Interest

"Siff does a very good job of explaining the relationship between the legal system and social environment, as well as the key players in government and society during the so-called psychedelic years in the United States. This makes Acid Hype especially valuable as a resource."--Sammye Johnson, Carlos Augustus de Lozano Chair in Journalism, Trinity University, and co-author of The Magazine from Cover to Cover
---