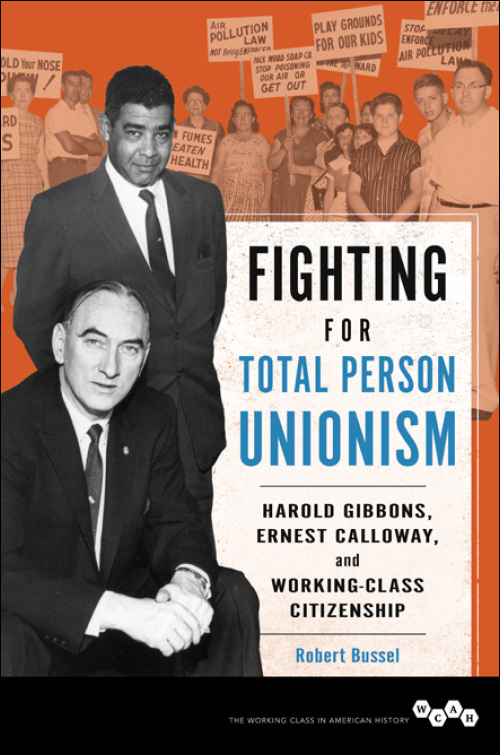 Fighting for Total Person Unionism
Harold Gibbons, Ernest Calloway, and Working-Class Citizenship
The progressive vision of a Teamsters local
Cloth – $110
978-0-252-03949-2
Paper – $32
978-0-252-08104-0
eBook – $14.95
978-0-252-09760-7
Publication Date
Cloth: 10/12/2015
About the Book
During the 1950s and 1960s, labor leaders Harold Gibbons and Ernest Calloway championed a new kind of labor movement that regarded workers as "total persons" interested in both workplace affairs and the exercise of effective citizenship in their communities.
Working through Teamsters Local 688 and viewing the city of St. Louis as their laboratory, this remarkable interracial duo forged a dynamic political alliance that placed their "citizen members" on the front lines of epic battles for urban revitalization, improved public services, and the advancement of racial and economic justice. Parallel to their political partnership, Gibbons functioned as a top Teamsters Union leader and Calloway as an influential figure in St. Louis's civil rights movement. Their pioneering efforts not only altered St. Louis's social and political landscape but also raised fundamental questions about the fate of the post-industrial city, the meaning of citizenship, and the role of unions in shaping American democracy.
About the Author
Robert Bussel is a professor of history and director of the Labor Education and Research Center at the University of Oregon. He is the author of From Harvard to the Ranks of Labor: Powers Hapgood and the American Working Class.
Reviews
"Robert Bussel makes a signal contribution to this emerging historiography in his dual biography of Harold Gibbons and Ernest Calloway, St. Louis labor leaders, one white and one black, who struggled against employer power, organized crime, and the city's culture of white supremacy."--
Missouri Historical Review
"As Robert Bussel's important recent book
Fighting for Total Person Unionism: Harold Gibbons, Ernest Calloway, and Working-Class Citizenship
(2015) reminds us, this tradition carried into postwar St. Louis where the Teamsters developed an innovative community steward program."--
Dissent
"Bussel paints a vivid portrait of two very complex--and often contradictory --union leaders.
Fighting For Total Unionism: Harold Gibbons, Ernest Calloway, and Working Class Citizenship
holds many important lessons for unionists today, and deserves to be read widely."--
People's World
"Bussel makes an important contribution to scholarship on the intersections of the labor and civil rights movements-- it challenges a postwar labor declension narrative by showcasing how progressive unionism transcended narrow conceptualization."--
Pacific Historical Review
"The book is a significant contribution to the history of the postwar labor movement."--
Journal of American History
"Bussel's careful and caring effort with Gibbons and Calloway deserves a much larger audience than labor historians alone;
Fighting for Total Person Unionism
is a must read for union leadership and staff and, especially, labor educators."--
Labor Studies Journal
"A captivating must-read for historians of postwar labor and civil rights movements as well as for present-day union officials and community organizers."--
Journal of Southern History
"Bussel does a remarkable job researching and reporting on these men and their union, and his language is likely meant to inspire readers with the promise of old ideas that might have fresh relevance for the challenges of today."--
Labour/Le Travail
"Bussel's
Fighting for Total Person Unionism
is a fine addition to the growing scholarly and historical literature on St. Louis as well as the historiography of labor and civil rights history."--
American Historical Review
---
Blurbs
"Fighting for Total Person Unionism is a thoroughly researched, elegantly constructed, and marvelously engaging study of two long-time labor activists. But it's more than that, really. Through the braided story of Harold Gibbons and Ernest Calloway, Bob Bussel recreates the social vision that animated much of the post-World War II labor movement--and reminds us how much we've lost in our age of rampant individualism."--Kevin Boyle, author of Arc of Justice: A Saga of Race, Civil Rights and Murder in the Jazz Age

"Advocates of a powerful vision of what unions could and should do, Ernest Calloway and Harold Gibbons of the International Brotherhood of Teamsters pioneered a "total person unionism" that engaged rank-and-file energies in the workplace and broader community. In this important and highly readable joint biography, Robert Bussel breaks new ground that helps us rethink the politics of postwar labor at the local level."--Eric Arnesen, editor of The Black Worker: Race, Labor, and Civil Rights since Emancipation

"The collaborative work of Calloway and Gibbons provides insight into labor at its post war best, and the path we must reclaim today. Total Person Unionism is a wonderful effort to reclaim that ground not only for historians but for all of us committed to economic justice and democracy today."--Larry Cohen, former president, Communications Workers of America

"Bussel is offering us a unique perspective on the nation's largest union in an era when it was at its peak of influence. He also asserts that the careers of these two men offer important lessons to organized labor today, of tactics and approaches that would help the movement regain its lost relevance."--David Witwer, author of Shadow of the Racketeer: Scandal in Organized Labor
---