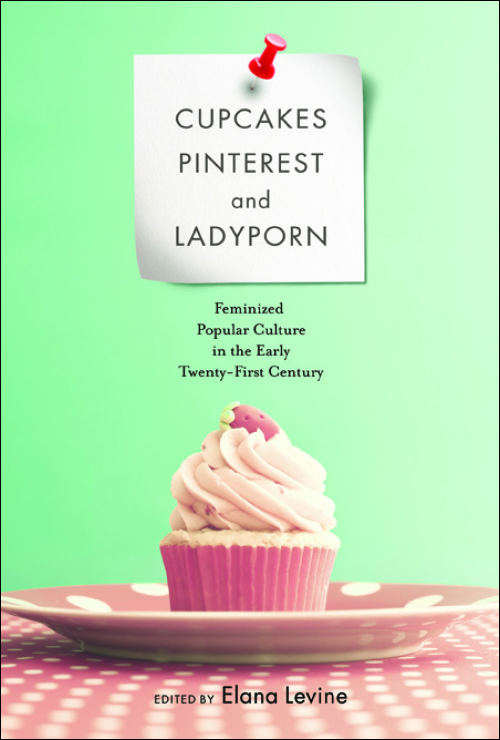 Cupcakes, Pinterest, and Ladyporn
Feminized Popular Culture in the Early Twenty-First Century
Exploring the cultural products targeted to and consumed by women
Cloth – $110
978-0-252-03957-7
Paper – $28
978-0-252-08108-8
eBook – $14.95
978-0-252-09766-9
Publication Date
Cloth: 10/05/2015
About the Book
Media expansion into the digital realm and the continuing segregation of users into niches has led to a proliferation of cultural products targeted to and consumed by women. Though often dismissed as frivolous or excessively emotional, feminized culture in reality offers compelling insights into the American experience of the early twenty-first century.
Elana Levine brings together writings from feminist critics that chart the current terrain of feminized pop cultural production. Analyzing everything from Fifty Shades of Grey to Pinterest to pregnancy apps, contributors examine the economic, technological, representational, and experiential dimensions of products and phenomena that speak to, and about, the feminine. As these essays show, the imperative of productivity currently permeating feminized pop culture has created a generation of texts that speak as much to women's roles as public and private workers as to an impulse for fantasy or escape.
Incisive and compelling, Cupcakes, Pinterest, and Ladyporn sheds new light on contemporary women's engagement with an array of media forms in the context of postfeminist culture and neoliberalism.
About the Author
Elana Levine is an associate professor in the Department of Journalism, Advertising, and Media Studies at the University of Wisconsin–Milwaukee. She is the author of Wallowing in Sex: The New Sexual Culture of 1970s American Television and co-author of Legitimating Television: Media Convergence and Cultural Status.
Reviews
"An enlightening consideration of the ways women consume media."--
Bust
"A fascinating time capsule of the activities and perceptions of women in the early 21st century in an environment that nurtures and celebrates phenomena such as E. L. James's
Fifty Shades of Grey
, celebrity gossip blogs, and the Kardashians. Recommended."--
Choice
"By foregrounding the complexity of gender in a postfeminist culture increasingly opposed to gender-specific analysis, Levine reminds us that these projects of feminist media analysis are as important in the 21st century as they were during the early days of feminist studies. . . . Levine's collection provides a fresh, updated look at feminized pop culture."--
Feminist Collections
"
Cupcakes
shows that the seemingly most traditional forms of popular culture, the sites that appear to simply reify normative femininity, are actually locations for complex and agentic negotiations of gendered, raced, and classed expectations in the often contradictory field of popular culture."--
Signs
"Through its manifold critiques of digital media, cultural products, and gendered spaces,
Cupcakes, Pinterest, and Ladyporn
has the potential to reinvigorate contemporary scholarship in feminist media studies and bring "feminized cultures" back into focus."--
Feminist Media Studies
"Taken as a whole,
Cupcakes, Pinterest, and Ladyporn
reads as a roundtable discussion on new roads ahead for feminist media and cultural studies more deeply concerned with issues of gender, race, and sexuality than ever."--
The Velvet Light Trap
---
Blurbs
"Levine has assembled a comprehensive set of smart, accessible, and interesting essays that truly capture 'feminized' popular culture in the early twenty-first century United States. This will be the definitive volume on 'post-feminist' popular cultural productions for some time to come."--Rebecca Wanzo, author of The Suffering Will Not Be Televised: African American Women and Sentimental Political Storytelling

"Cupcakes, Pinterest, and Ladyporn offers a concise, engaged, and fascinating set of analyses on things feminine, female, and feminist in the context of popular media culture. The book is headed by a truly insightful introductory essay from Elana Levine and filled with consistently provocative and unique essays that artfully make the case for the many ways in which gender is central to the production, reception, and content of media. If you've ever wondered how new media forms like Twitter and Facebook have bigger implications for gender relations, this book is for you."--Brenda R. Weber, author of Makeover TV: Selfhood, Citizenship, and Celebrity

"In a provocative return to a topic dominant in early feminist media and cultural studies, Cupcakes, Pinterest, and Ladyporn helps us to understand better the pleasures and politics of feminine popular culture at a time when its creators and consumers are negotiating both feminist and postfeminist sensibilities.--Mary Celeste Kearney, editor of The Gender and Media Reader
---