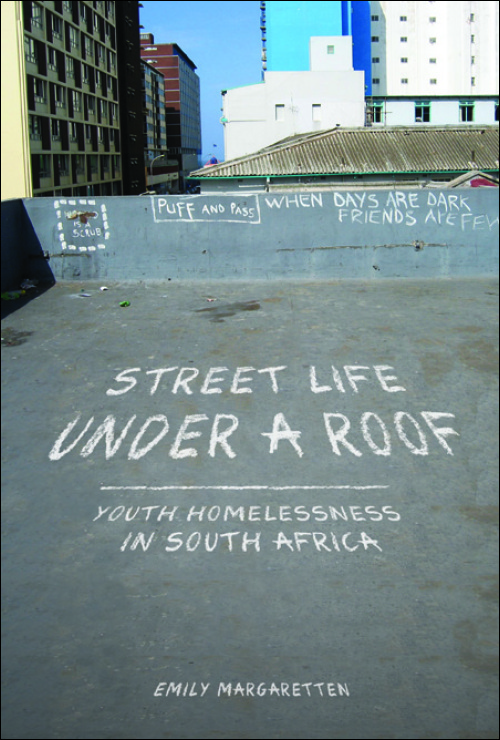 Street Life under a Roof
Youth Homelessness in South Africa
Yearning for domesticity on the margins of South African society
Cloth – $110
978-0-252-03960-7
Paper – $25
978-0-252-08111-8
eBook – $14.95
978-0-252-09769-0
Publication Date
Cloth: 10/12/2015
About the Book
Point Place stands near the city center of Durban, South Africa. Condemned and off the grid, the five-story apartment building is nonetheless home to a hundred-plus teenagers and young adults marginalized by poverty and chronic unemployment.
In Street Life under a Roof, Emily Margaretten draws on ten years of up-close fieldwork to explore the distinct cultural universe of the Point Place community. Margaretten's sensitive investigations reveal how young men and women draw on customary notions of respect and support to forge an ethos of connection and care that allows them to live far richer lives than ordinarily assumed. Her discussion of gender dynamics highlights terms like nakana--to care about or take notice of another--that young women and men use to construct "outside" and "inside" boyfriends and girlfriends and to communicate notions of trust. Margaretten exposes the structures of inequality at a local, regional, and global level that contribute to socioeconomic and political dislocation. But she also challenges the idea that Point Place's marginalized residents need "rehabilitation." As she argues, these young men and women want love, secure homes, and the means to provide for their dependents--in short, the same hopes and aspirations mirrored across South African society.
About the Author
Emily Margaretten is an assistant professor of anthropology at Ripon College.
Reviews
"A well written and often gripping ethnographical study of the young, marginalized, and poor youth who live there, and who are separated from distant homes that are either unable or unwilling to provide for them. . . . The book's findings and discussions around gender dynamics make a worthy contribution to anthropological analysis of youth and understandings of the logics of social organization that develop in tough urban environments."--
African Studies Quarterly
"Margaretten's ethnographic realism and dialogical writing style make for compelling reading, while her appreciation of Zulu idioms and metaphors adds depth and thickness to her ethnographic accounts."--
Journal of the Anthropological Institute
---
Blurbs
"An exemplary ethnography of post-apartheid life. Margaretten takes us to a place that few people know even exists: a self-run shelter for homeless young people in Durban. What emerges is a searing portrait of drugs, violence, and AIDS but also of compassion, love, loyalty, and humanity."--Mark Hunter, author of Love in the Time of AIDS: Inequality, Gender, and Rights in South Africa

"A major addition to the literature on youth in Africa as well as 'homelessness' and street children more generally."--Adam Ashforth, author of Witchcraft, Violence, and Democracy in South Africa

"An important contribution to the anthropology of youth in Africa. Margaretten's rich, experience-near, ethnographic descriptions support a complex analysis of the lives of South African street youth in a context of dramatic inequality. It is nearly impossible to read Street Life under a Roof without feeling a connection with the youth of Point Place, and taking a deep interest in their struggles with love, family, and money."--Daniel Mains, author of Hope Is Cut: Youth, Unemployment, and the Future in Urban Ethiopia
---