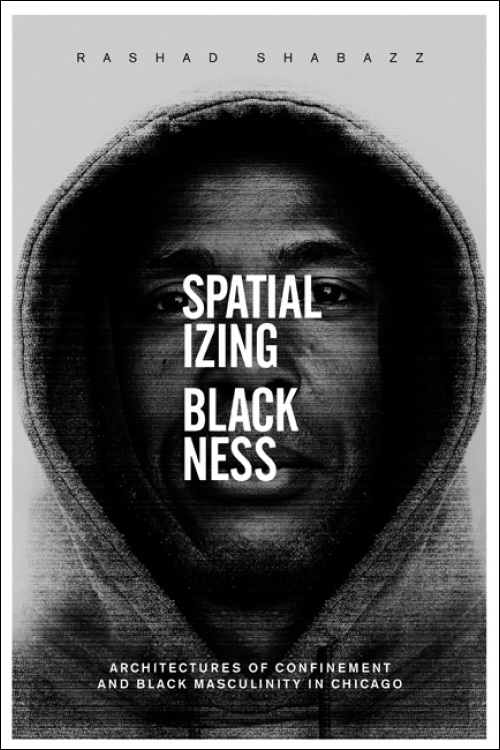 Spatializing Blackness
Architectures of Confinement and Black Masculinity in Chicago
The ubiquity of carceral forms within society and the consequences for black communities and black men
Cloth – $110
978-0-252-03964-5
Paper – $25
978-0-252-08114-9
eBook – $14.95
978-0-252-09773-7
Publication Date
Cloth: 09/21/2015
About the Book
Over 277,000 African Americans migrated to Chicago between 1900 and 1940, an influx unsurpassed in any other northern city. From the start, carceral powers literally and figuratively created a prison-like environment to contain these African Americans within the so-called Black Belt on the city's South Side.
A geographic study of race and gender, Spatializing Blackness casts light upon the ubiquitous--and ordinary--ways carceral power functions in places where African Americans live. Moving from the kitchenette to the prison cell, and mining forgotten facts from sources as diverse as maps and memoirs, Rashad Shabazz explores the myriad architectures of confinement, policing, surveillance, urban planning, and incarceration. In particular, he investigates how the ongoing carceral effort oriented and imbued black male bodies and gender performance from the Progressive Era to the present. The result is an essential interdisciplinary study that highlights the racialization of space, the role of containment in subordinating African Americans, the politics of mobility under conditions of alleged freedom, and the ways black men cope with--and resist--spacial containment.
A timely response to the massive upswing in carceral forms within society, Spatializing Blackness examines how these mechanisms came to exist, why society aimed them against African Americans, and the consequences for black communities and black masculinity both historically and today.
About the Author
Rashad Shabazz is an associate professor in the School of Social Transformation at Arizona State University and was previously assistant professor of geography at the University of Vermont.
Reviews
"Shabazz does an excellent job of demonstrating how Black Chicago's prisonscapes leave little place for the presence of black masculinity to exist without feeling like a fugitive."--
Society and Space
"Rashad Shabazz's
Spatializing Blackness: Architectures of Confinement and Black Masculinity in Chicago
answers this question with particular attention to the lives (and deaths) of black men in Chicago from the Progressive era through 2015. . . . The book's organization, its argumentative imaginativeness, and its author's great conviction in its importance are its greatest strengths. . . . If readers would like to get a sense of the "architectures of confinement" that defined poor black living in Chicago, there Shabazz is rhetorically strongest." --
H-Net Reviews
"Beautifully crafted. . . . Rashad Shabazz makes an indelible contribution to the complex study of racial formations as they intertwine with emergent Black masculinities."--
Criminal Law and Criminal Justice Book Reviews
"An important and timely book that should be widely read and carefully discussed." --
Environment, Space, Place
---
Blurbs
"An original work that teases out how the question of black masculinity has been linked to different processes of confinement and imprisonment with carceral power--both inside and outside the prison industrial complex--shaping and relegating black lives and inciting acts of preventable death."--Katherine McKittrick, author of Demonic Grounds: Black Women and the Cartographies of Struggle

"An engaging, interdisciplinary, historically situated examination of the creation of 'carceral' space in Chicago as a constituting dimension of the city's modern policing and de facto segregation of black people and communities. The work makes use of several vital intellectual traditions to make its case and thus pushes against dominant scholarly narratives of Chicago's racial-gender social formations."--Dylan Rodriguez, author of Forced Passages: Imprisoned Radical Intellectuals and the U.S. Prison Regime

"Highlights the crucial importance of the racialization of space, the role of containment in maintaining the subordination of black people, and the politics of mobility under conditions of 'freedom.'"--Tricia Rose, author of The Hip Hop Wars: What We Talk about When We Talk about Hip Hop--and Why It Matters

"In Spatializing Blackness Shabazz elucidates how the carceral operates in the everyday lives of Black Chicago. In doing so he forges a new historical geography of Blackness that provides a path for others to follow."--Laura Pulido, author of Black, Brown, Yellow, and Left: Radical Activism in Los Angeles
---