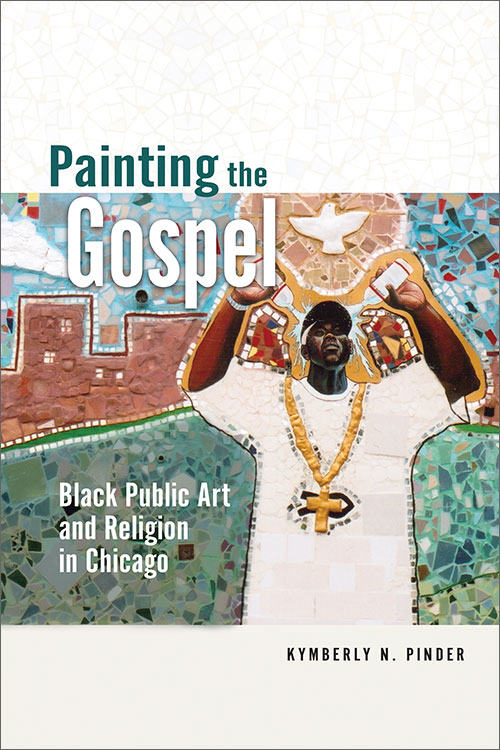 Painting the Gospel
Black Public Art and Religion in Chicago
A full-color guide to the social and spiritual impact of African American religious art
Cloth – $110
978-0-252-03992-8
Paper – $29.95
978-0-252-08143-9
eBook – $14.95
978-0-252-09808-6
Publication Date
Cloth: 03/21/2016
About the Book
Innovative and lavishly illustrated,
Painting the Gospel
offers an indispensable contribution to conversations about African American art, theology, politics, and identity in Chicago. Kymberly N. Pinder escorts readers on an eye-opening odyssey to the murals, stained glass, and sculptures dotting the city's African American churches and neighborhoods. Moving from Chicago's oldest black Christ figure to contemporary religious street art, Pinder explores ideas like blackness in public, art for black communities, and the relationship of Afrocentric art to Black Liberation Theology. She also focuses attention on art excluded from scholarship due to racial or religious particularity. Throughout, she reflects on the myriad ways private black identities assert public and political goals through imagery.
Painting the Gospel includes maps and tour itineraries that allow readers to make conceptual, historical, and geographical connections among the works.
* Publication of this book was supported by a generous grant from the Terra Foundation for American Art and funding from the University of New Mexico College of Fine Arts
About the Author
Kymberly N. Pinder is Dean of the College of Fine Arts at the University of New Mexico and editor of Race-ing Art History: Critical Readings in Race and Art History.
Reviews
"A valuable, well-researched survey of Afrocentric Christian art. . . . Recommended."--
Choice
"Pinder has provided a rigorously researched guide to black public art in
Painting the Gospel
. The value of this text, and its attention to the attendant folklore, will only deepen with time."--
Journal of Folklore Research
"
Painting the Gospel
is an excellent interdisciplinary study of black Christian imagery within a specific locale, and the factors that helped shape it."--
Art and Theology
"A beautifully written, in-depth examination of the creation and nature of black religious art in Chicago."--
Journal of the Illinois State Historical Society
---
Blurbs
"In a day when aging urban churches are faced with demolition on the one hand and inattention from scholars on the other, art historian Kymberly Pinder steps in to rescue overlooked African American religious art from this fate of double-oblivion. With estimable care and resourceful historical analysis, she explores work that conveys the cultural politics and religious ideals of black congregations in early twentieth-century Chicago. Paintings, murals, mosaics, stained glass, songs, and poetry spring to life to deliver one more time their testimony to Protestant and Catholic religious communities and to a vibrant black history that needs telling."--David Morgan, author of The Embodied Eye: Religious Visual Culture and the Social Life of Feeling

"Kymberly Pinder's Black Public Art and Religion in Chicago is an immensely important volume. Her bold and insightful study of local urban religious practices of 'empathetic realism' and 'tragic space' fills an inexcusable chasm in the scholarly literatures. In demonstrating the multi-media visual, material, sonic, and performative cultures of religion mobilized by her African American subjects, she illuminates not only the significant particularities of twentieth-century artistic and political history in Chicago but also invites her readers to consider larger national implications of race and religion, far beyond any one city's geographical boundaries. This is a stellar contribution."--Sally M. Promey, Yale University

"An exciting examination of the ways in which a variety of black denominations have visualized Christ in their own images throughout the twentieth and twenty-first centuries."--Kristin Schwain, author of Signs of Grace: Religion and American Art in the Gilded Age

"Painting the Gospel points out the significance of the visual within African American religious thought and practice. Pushing against the typical dominance of the written text, this volume, using Chicago as a case study, provides an intriguing discussion of how visual culture within public spaces offers significant insight into the thought and practice of African American religiosity. In so doing, Painting the Gospel offers an interesting take on the idea 'seeing is believing.'"--Anthony B. Pinn, author of The End of God-Talk: An African American Humanist Theology
---